TecQuipment
Technical Teaching Equipment for Engineering
TecQuipment is the leading provider of high quality educational equipment for engineering disciplines. The company's laboratory products are used by students and educators across the world, in over 1500 establishments in more than 100 countries.
Download the TecQuipment Brochure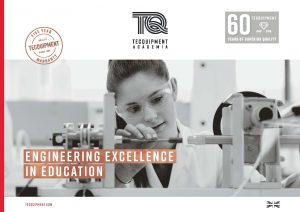 TecQuipment Video Library
---
Aerodynamics
Subsonic Wind Tunnels
Wind Tunnel Packages
Special Purpose Wind Tunnels
Supersonic Nozzles
Supersonic Wind Tunnels
---
Control Engineering
Control Engineering Principles
MATLAB®/Simulink® Control
Digital Control
Process Control
---
Engineering Science
Work Panel
Simple Machines
Mechanisms
Vibration, Friction & Energy
Materials Testing
Forces & Moments
Engineering Science Packages
Support Equipment and Ancillaries
Fluid Mechanics
Pumps and Turbines
Open Channel Flow
Flow and Pressure Management
Hydrostatics and Properties of Fluids
Vortices and Cavitation
Pipe Friction and Low Energy Loss
Hydraulic Bench
Laminar and Turbulent Flow
Hydrology
Nozzles and Jets
Pipe Surge and Water Hammer
Flow Visualization
Modular Fluid Power (Pumps, Turbines and Compressors)
---
Materials Testing and Properties
Basic Elastic Properties
Tensile and Universal Testing Machines
Impact Testing
Hardness Testing- Industrial
Free-Standing Structures Experiments
Creep Testing
Stress and Strain Analysis
Torsion Testing
Fatigue Testing
Test Specimens
---
Statics Fundamentals
Statics Fundamentals Work Panel
Statics Fundamentals Experiments
---
Next Generation Structures

Structures Platform
Arches, Bridges & Trusses
Failure
Deflections & Stress
Moments
Torsion
---
Theory of Machines
Friction
Motion
Vibration
---
Thermodynamics
Compressors
Heat Transfer
Thermodynamics Principles
Steam
Temperature
TecQuipment Products

OVER 35 YEARS OF SERVICE
Providing insight, selection, installation, and ongoing support of the latest educational and career technology.
Request a Quote
Learn More About TecQuipment
For more information or to contact Buckeye Educational Systems, your Authorized TecQuipment Reseller, call 800.522.0460 or email info@buckeye-edu.com