Focusing Solar Energy Collector
This structure illustrates the workings of a focusing solar energy collector and allows students to study its performance.
Mobile, self-contained focusing solar energy collector specially designed for educational use
Demonstrates principles, advantages and limitations of focusing solar energy collectors
Includes four different sizes of collector for studies of different energy concentration ratios
Removable transparent cover allows students to compare properties of shielded and unshielded collectors
Learning Outcomes
Demonstrations of the performance, advantages and limitations of a focusing solar energy collector
Understanding the effective use of the direct component of solar radiation
Measurement of the efficiency of the collector with and without a transparent cover
Measurement of the maximum possible energy collector temperature
A highly-polished stainless steel parabolic reflector, supported on trunnion bearings on a turntable. By adjusting the horizontal and vertical position of the reflector, students focus solar energy onto an energy collector. The energy collector is a brass cylinder with an embedded thermocouple that measures the cylinder temperature. To enable students to compare different concentration ratios, TecQuipment supplies four different sizes of energy collector. Also supplied is a removable transparent cover for the collector, so students can study the properties of shielded and unshielded collectors. Attached to the reflector carrier is a solarimeter (pyranometer) that measures the incident solar radiation. ——————–
Recommended Ancillaries:
Versatile Data Acquisition System – Bench-mounted version
Stopwatch (SW1)
Alternative Products:
Photovoltaic Cells (TE4)
Flat Plate Solar Thermal Energy Collector (TE39)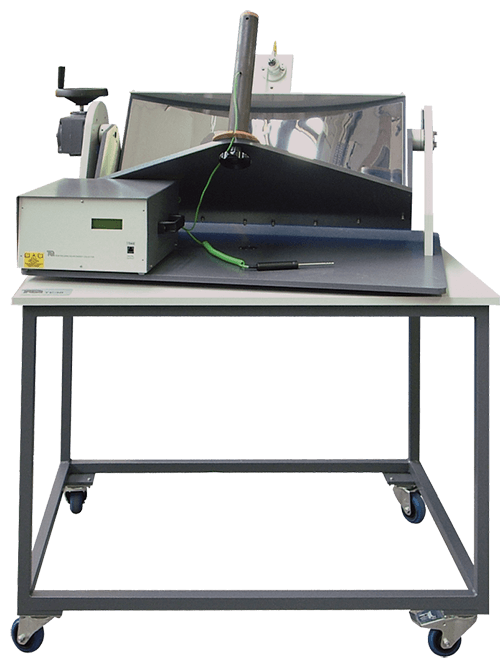 OVER 35 YEARS OF SERVICE
Providing insight, selection, installation, and ongoing support of the latest educational and career technology.
Request a Quote
Learn More About TecQuipment
For more information or to contact Buckeye Educational Systems, your Authorized TecQuipment Reseller, call 800.522.0460 or email info@buckeye-edu.com