Bench-Top Heat Exchanger Unit
Designed for teaching, the Bench-Top Heat Exchanger unit includes foolproof fittings to allow students to quickly and easily change out heat exchanger types — with no tools needed. The unit allows students to examine and compare small-scale heat exchanger designs. It provides hot and cold water to the heat exchangers and all the instruments necessary to measure their performance.
This easy-to-operate unit allows students to perform qualitative and quantitative comparisons of common heat exchanger designs in a safe and efficient environment.
Installation, operation, and set-up are simple:
Integrates with VDAS® Software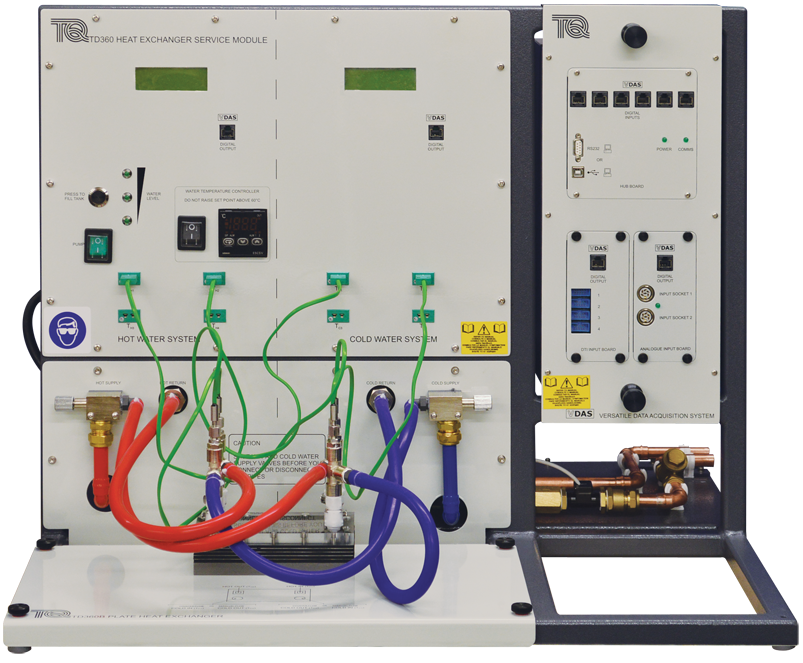 The optional VDAS® (Versatile Data Acquisition System) provides high-capacity, accurate, efficient, and user-friendly automatic data acquisition. Students will be able to monitor experiment data in real-time, receiving instant feedback and data capture.
Free Unlimited Software Downloads
Plug-And-Play Operation
No Calibration
USB Connectivity

OVER 35 YEARS OF SERVICE
Providing insight, selection, installation, and ongoing support of the latest educational and career technology.
Request a Quote
Learn More About TecQuipment
For more information or to contact Buckeye Educational Systems, your Authorized TecQuipment Reseller, call 800.522.0460 or email info@buckeye-edu.com