Bench Top Tensile Testing Machine
This structure is a laboratory-scale, hand-driven bench-top tensile testing machine, 20 kN capacity.
Learning Outcomes
Tensile tests up to 20 kN on specimens made of different metals, to find material characteristics such as upper and lower yield strengths, tensile strength and overall extension
Tests of Young's modulus (E) for the specimen material
A sturdy base holds a hand-driven worm and wheel gearbox, driving a lead screw with approximately 400 mm of travel. The mechanism uses ball races and self-aligning ball thrust races in the direction of loading. These low-friction bearings with the large handwheel allow the user to apply maximum load with minimum effort. The load-measuring mechanism is a strain-gauged load cell that connects to a microprocessor-controlled digital display. The load display unit has a 'peak hold' function to register the maximum load before the specimen breaks. A sliding digital display measures the tensile displacement (extension) over the entire movement. The tensile specimens mount between the load application mechanism and load cell, in collet chucks via ball-jointed spigots. This ensures purely axial loading.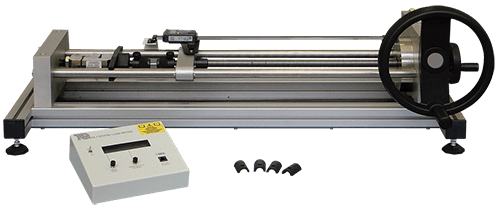 Features:
Simple hand-operated load application
Supplied with chucks for standard 20 mm2 specimens
Optional Extensometer
Optional Compression Cage and Brinell Test Set
Available Experiment Modules:
Brinell Hardness Test Set (SM1002C)
Recommended Ancillaries:
Versatile Data Acquisition System – Bench-mounted version
Extra TL and TS specimens
Extensometer (SM1002a)

OVER 35 YEARS OF SERVICE
Providing insight, selection, installation, and ongoing support of the latest educational and career technology.
Request a Quote
Learn More About TecQuipment
For more information or to contact Buckeye Educational Systems, your Authorized TecQuipment Reseller, call 800.522.0460 or email info@buckeye-edu.com