Torsion Testing Machine
This bench-mounted machine to allows students to do torsion tests on different materials and demonstrates the Bauschinger effect.
Suitable for destructive tests on specimens
Forward and reverse loading
Wide range of test specimens
Optional Torsiometer (SM1001a) available for tests which need increased accuracy
Learning Outcomes
Determination of modulus of rigidity (shear modulus) and yield strength (when used with the optional torsiometer)
Determination of upper and lower yield stresses for normalized steel specimens
Reversed torsion tests to demonstrate the Bauchinger effect and the effects of residual body and textural stresses on torsional strength
Comparison of the different elastic and plastic properties of materials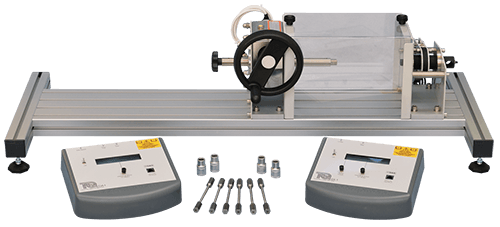 The Torsion Testing Machine consists of a rigid frame. The specimens fit between a strain head at one end and a torque reaction and measurement system at the other. To apply torque, students turn a handle on the gearbox. The output shaft of the gearbox slides to allow for any change in length of the specimen during tests. A guard protects the
user when performing destructive tests.
Recommended Ancillaries:
Torsion Test Specimens (TR)
Versatile Data Acquisition System – Bench-mounted version
Torsiometer (SM1001a) – Mechanical torsiometer for use with 6 mm diameter specimens in both the elastic and plastic regions

OVER 35 YEARS OF SERVICE
Providing insight, selection, installation, and ongoing support of the latest educational and career technology.
Request a Quote
Learn More About TecQuipment
For more information or to contact Buckeye Educational Systems, your Authorized TecQuipment Reseller, call 800.522.0460 or email info@buckeye-edu.com