Intermittent Supersonic Wind Tunnel
This structure investigates subsonic and supersonic air flow, including flow around two-dimensional models.
Laboratory-scale wind tunnel for subsonic and supersonic tests, nominally up to Mach 1.8
Supplied with aerodynamic models for supersonic tests – including model angle-feedback encoder
Supplied with a set of different liners for controlled subsonic and supersonic air flow
Induction flow for better air flow and accurate results
Learning Outcomes
Pressure distribution along a convergent/divergent (Laval) nozzle with subsonic and supersonic air flow
Comparison of theoretical and actual pressure distributions
Comparison of actual and theoretical area ratios of a nozzle at supersonic air velocities
Pressures around a two-dimensional model in subsonic and supersonic flow conditions, at different angles of incidence
Lift coefficients for aerodynamic models in supersonic flow
Shock waves and expansion patterns around a two-dimensional model in supersonic flow conditions
Essential Ancillaries:
Air Compressor Receiver and Dryer (AF300B)
Versatile Data Acquisition System – Frame-mounted version
Recommended Ancillaries:
Schlieren Apparatus (AF300A)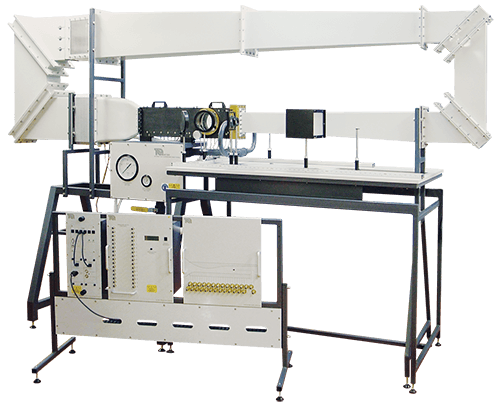 A compressed air supply induces a flow in the working section of the wind tunnel. This gives a less turbulent and more stable flow for accurate results and comparison with theory. The essential compressed air supply includes filters and air dryers to give the dust-free and dry air source needed for good results.

OVER 35 YEARS OF SERVICE
Providing insight, selection, installation, and ongoing support of the latest educational and career technology.
Request a Quote
Learn More About TecQuipment
For more information or to contact Buckeye Educational Systems, your Authorized TecQuipment Reseller, call 800.522.0460 or email info@buckeye-edu.com