Cam Analysis Machine
This machine studies the dynamic behavior of different cams and followers and their 'bounce' speed.
Illustrates cam and follower separation or 'cam bounce' under safe and controlled conditions
Fully interlocked for safety
Highly visual and audible – perfect for demonstrations
Works with TecQuipment's VDAS to capture data and show live traces of the follower movement – even at bounce
Learning Outcomes
Comparing actual results with theory for profiles of follower displacement, acceleration and velocity
Cam bounce speeds for different cam and follower combinations, and comparison of speeds to those predicted by simplified theory
How spring rate, preload and follower mass affect cam bounce speed
Essential Ancillaries:
Versatile Data Acquisition System – bench-mounted version
Alternative Products:
Cam and Crank and Toggle Kit (ES12)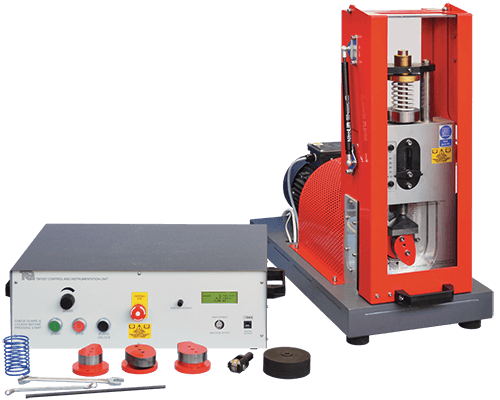 The main part of the product has a precision-machined heavy steel base which holds a high-torque, direct-drive variable-speed motor. The motor shaft connects through a coupling to the main shaft which then passes into the cam test area. Self-aligning heavy-duty bearings support the shaft which has a substantial flywheel. The flywheel reduces speed variations as the torque demand changes during the cam rotation cycle. The cam under test fits to the end of the main shaft, accurately mounted both axially and radially to ensure repeatability. The follower fits to the bottom of a vertical shaft running in low-friction linear bearings.

OVER 35 YEARS OF SERVICE
Providing insight, selection, installation, and ongoing support of the latest educational and career technology.
Request a Quote
Learn More About TecQuipment
For more information or to contact Buckeye Educational Systems, your Authorized TecQuipment Reseller, call 800.522.0460 or email info@buckeye-edu.com