Flat Plate Solar Thermal Energy Collector
This structure illustrates the works of a flat plate solar energy collector and allows students to study its performance.
Educational flat plate solar energy collector with full instrumentation
Allows students to investigate the effective use of a renewable, environmentally friendly energy source
Purpose designed and built solar panel for high quality
Includes digital display of flow, radiation intensity and temperatures at different points throughout the apparatus
Learning Outcomes
Efficiency of the collector
Efficiency and heat losses
Effect of collector angle
The panel has a thin sheet metal absorber, backed by riser tubes and insulating material, to reduce heat loss to the rear. A box with a clear cover encloses the panel, forming the collector. To allow users to adjust its angle, the frame has a hinge. Cold mains water enters the collector. Sunlight energy heats the water in the collector. The heated water returns to a pump that mixes it with the incoming cold water. A pressure-sensitive valve allows the heated water to leave the equipment at the same rate as cold water enters it. A flow transducer measures the water flow rate and a solarimeter measures incident radiation. Thermocouples measure the water temperature at all the important points, and the shade temperature. ———–
Recommended Ancillaries:
Versatile Data Acquisition System – Bench-mounted version
Alternative Products:
Photovoltaic Cells (TE4)
Focusing Solar Energy Collector (TE38)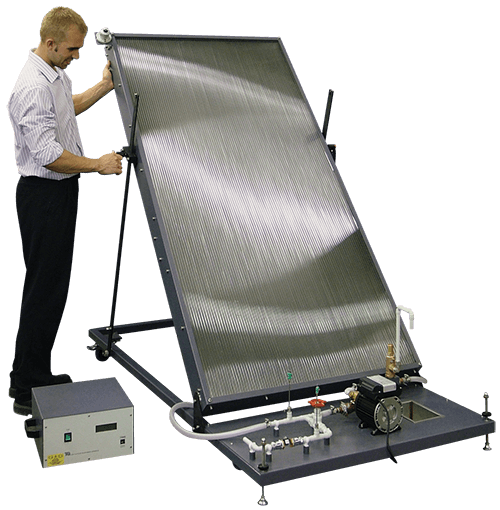 OVER 35 YEARS OF SERVICE
Providing insight, selection, installation, and ongoing support of the latest educational and career technology.
Request a Quote
Learn More About TecQuipment
For more information or to contact Buckeye Educational Systems, your Authorized TecQuipment Reseller, call 800.522.0460 or email info@buckeye-edu.com