Structures Software
TecQuipment's Structures Software is ideal for students of civil, mechanical and structural engineering. It allows them to perform computer-simulated experiments which stud the principles of structures.
The Structures Software is the ideal companion to TecQuipment's hardware modules. It includes a simulated form of each hardware module. The software is a useful tool when used on stand-alone or networked computers.
The software also allows students to apply a greater range of loads, often including uniformly distributed loads. Students can see, tabulate and graph data, reducing the time needed for them to get, process and show results. They can study and compare the properties of a wide variety of different structures.
Features
Accurately simulates all 19 of TecQuipment's Structures range experiments
Includes user guides with suggested experiments and typical answers
Gives virtual experiments that extend beyond the limits of the experiment hardware
Single-user and networked options available
Latest version of the software can be downloaded from the website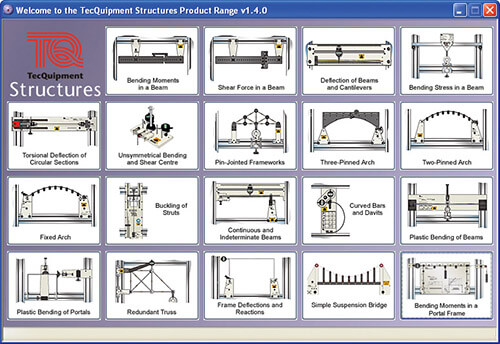 OVER 35 YEARS OF SERVICE
Providing insight, selection, installation, and ongoing support of the latest educational and career technology.
Request a Quote
Learn More About TecQuipment
For more information or to contact Buckeye Educational Systems, your Authorized TecQuipment Reseller, call 800.522.0460 or email info@buckeye-edu.com