Simple Suspension Bridge
This product helps students to understand how loads affect tension in the suspension cable supporting the 'deck' of a suspension bridge. Students add loads to the deck held by the suspension cable between two supports. A load cell in the left-hand support measures the cable tension.
This product includes additional masses so students may apply a uniformly distributed load (UDL) and a single point load.
Learning Outcomes
How bridge load affects the tension in a suspension cable
Comparing a central point load with a UDL
Exploring the ratio of bridge 'deck' mass and a moving load
Comparing simple parabola-based theory with a more realistic analysis of the model
Key Features
A simplified version of a realistic structure to give students an understanding of real-life structures
Direct measurement of cable tension for simple and quick experiments
Supplied with a storage tray to keep smaller items safe
Works with user-friendly software (VDAS)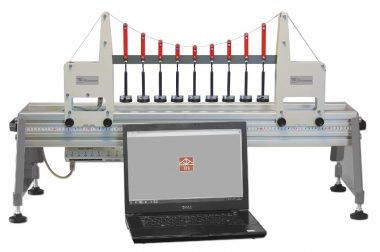 OVER 35 YEARS OF SERVICE
Providing insight, selection, installation, and ongoing support of the latest educational and career technology.
Request a Quote
Learn More About TecQuipment
For more information or to contact Buckeye Educational Systems, your Authorized TecQuipment Reseller, call 800.522.0460 or email info@buckeye-edu.com