Pin-Jointed Frameworks
This structure is for the study of strains, stresses, forces and deflections in various pin-jointed frameworks, and study of Bow's notation.
Students use stainless-steel members to build different pin-pointed frameworks. The equipment includes two framework supports: a pivoting support, and a pivoting and rolling support. Each member has a strain gauge attached that connects to a digital strain bridge. Load cells measure the load applied at various angles. A second load cell can be fitted to simulate lateral forces on the truss (STR8a).
Learning Outcomes
Study of Bow's notation, strains, stresses, forces and deflections in various frameworks, including a Warren girder and roof truss
Comparison of different frameworks
–
Essential Base Unit:
Structures Test Frame (STR1)
Essential Ancillaries:
Digital Force Display (STR1a)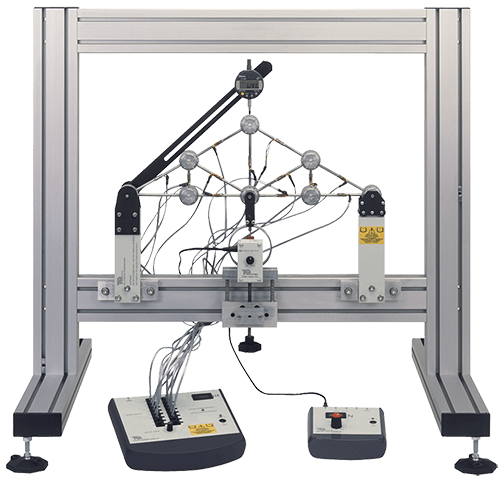 Recommended Ancillaries:
Structures Software (STRS) for virtual experiments OR
Automatic Data Acquisition Unit (STR2000) for automatic data acquisition and virtual experiments
Additional Load Cell (STR8a)
Alternative Products:

OVER 35 YEARS OF SERVICE
Providing insight, selection, installation, and ongoing support of the latest educational and career technology.
Request a Quote
Learn More About TecQuipment
For more information or to contact Buckeye Educational Systems, your Authorized TecQuipment Reseller, call 800.522.0460 or email info@buckeye-edu.com