Continuous and Indeterminate Beams
This product provides a comprehensive set of experiments for the subject of beams and their support reactions and deflections.
Students apply loads to any position along the beams and measure the resulting reactions, deflections and moments. They use textbook beam equations to predict the results for any given load and compare the calculated results with the measured results. This helps confirm the reliability of the textbook equations and the accuracy of the experiment results.
Learning Outcomes
Principle of moments
Reactions for a point load along a simply supported beam
Reactions for a uniformly distributed load (UDL) on a simply supported beam
The principle of superposition
Influence Lines
Deflection of a simply supported beam
Reactions for a continuous beam
Reactions and moments of a propped cantilever
Reactions and moments of a fixed beam
The effect of a sinking support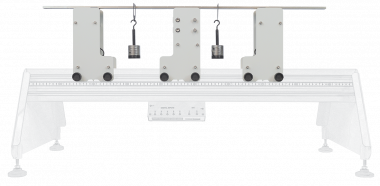 Key Features
Comprehensive range of experiments in both statically determinate and statically indeterminate beams
Fits to the Structures platform for ergonomic use and space-saving storage
Supplied with a storage tray to keep smaller items safe
Includes additional masses for experiments with a uniformly distributed load (UDL)
Includes Vernier caliper for beam cross-section measurement
Works with user-friendly software (VDAS®)

OVER 35 YEARS OF SERVICE
Providing insight, selection, installation, and ongoing support of the latest educational and career technology.
Request a Quote
Learn More About TecQuipment
For more information or to contact Buckeye Educational Systems, your Authorized TecQuipment Reseller, call 800.522.0460 or email info@buckeye-edu.com