Bench-top Heat Exchangers Service Module
The Bench-top Heat Exchangers Service Module (TD360) is the core of the bench-top heat exchangers range. It provides hot and cold water to the heat exchangers and all the instruments needed to measure their performance.
Features
A bench-top service module with optional small-scale demonstration heat exchangers – designed for teaching
Optional heat exchangers include most common types used in industry (tubular, plate, shell and tube, and a jacketed vessel with coil and stirrer)
All optional heat exchangers have the same nominal heat transfer area and wall thickness
Foolproof fittings allow students to change and connect the optional experiments quickly and easily (needs no tools)
Heat-exchangers each have a bedplate with a clear schematic diagram to help students understand how to connect it
Benefits
Efficient use of valuable laboratory space
Qualitative and quantitative comparison of main heat exchanger designs
Simple and safe to use – self-sealing connectors prevents spillage of water
Easy to set up and operate – maximizes students' practical time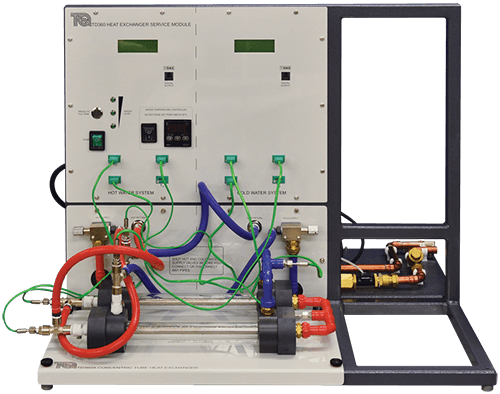 OVER 35 YEARS OF SERVICE
Providing insight, selection, installation, and ongoing support of the latest educational and career technology.
Request a Quote
Learn More About TecQuipment
For more information or to contact Buckeye Educational Systems, your Authorized TecQuipment Reseller, call 800.522.0460 or email info@buckeye-edu.com