Photovoltaic Cells (TE4)
This structure illustrates how effective photovoltaic cells are in capturing solar energy.
Demonstrates the performance of a high-efficiency photovoltaic cell array and battery storage system
Includes solarimeter, charge controller and control module with digital displays and DC outputs
Supplied with both high and low-rated batteries to allow students to investigate charge and discharge cycle of the system in a typical laboratory session as well as longer cycles
Includes three different types of electrical loads
Learning Outcomes
Performance of the solar panel
Demonstration of float mode
Demonstration of load cut
The TE4 uses a commercially available solar panel made from high efficiency cells. The solar panel is on a wheeled, lightweight frame that allows adjustment of the panel angle, relative to the sun. A solarimeter on the frame measures incident radiation. The panel recharges a choice of two batteries through a charge controller. The charge controller recharges the battery at the correct rate of charge without damage to the battery. The frame holds a high-performance, deep-cycling battery in a storage box. The equipment also includes a second lower-rated battery. This allows students to examine the charge and discharge cycle of the system in a typical laboratory session.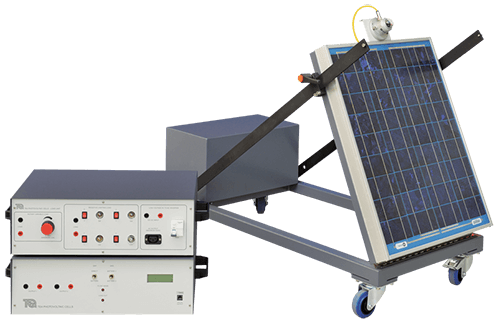 Recommended Ancillaries:
Versatile Data Acquisition System – Bench-mounted version
Alternative Products:
Focusing Solar Energy Collector (TE38)
Flat Plate Solar Thermal Energy Collector (TE39)

OVER 35 YEARS OF SERVICE
Providing insight, selection, installation, and ongoing support of the latest educational and career technology.
Request a Quote
Learn More About TecQuipment
For more information or to contact Buckeye Educational Systems, your Authorized TecQuipment Reseller, call 800.522.0460 or email info@buckeye-edu.com