Shear Force in a Beam
This product helps students to understand how loads affect the bending moment in a beam.
This product includes a uniformly distributed load (UDL) that may be applied across the span of the beam for comparison of results with a single point load.
Learning Outcomes
Shear force at the cut due to a varying single point load
Shear force at the cut due to a moving single point load
Shear force at the cut due to a uniformly distributed load
Influence lines and superposition
Key Features
Unique beam 'cut' and load cell system for an accurate measurement of shear force
Includes multiple loads for many combinations of loads including uniformly distributed loads (UDLs)
Supplied with a storage tray to keep smaller items safe
Works with user-friendly software (VDAS®)
Direct reading of shear force at the 'cut' for quick and simple experiments
Complementary bending moment experiment available (STS2)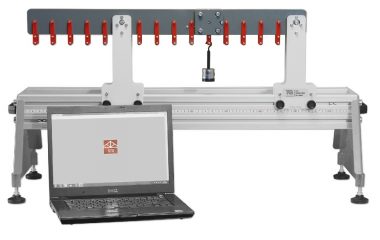 OVER 35 YEARS OF SERVICE
Providing insight, selection, installation, and ongoing support of the latest educational and career technology.
Request a Quote
Learn More About TecQuipment
For more information or to contact Buckeye Educational Systems, your Authorized TecQuipment Reseller, call 800.522.0460 or email info@buckeye-edu.com