Process Trainer
This structure is a self-contained, bench-mounted, fully integrated teaching apparatus that mimics industrial process engineering, including a comprehensive range of experiments in flow, level, pressure and temperature, ranging from basic theories through to more advanced principles.
Includes four basic process control methods in one compact unit
Supplied with TecQuipment's CE2000 software for supervisory control of the process with data acquisition
Mimics common industrial parts and processes with realistic results
Ideal for classroom demonstrations and student experiments
Includes experiments from basic control to advanced control methods, including ratio control, cascade control, interactive control and feedforward control
Learning Outcomes
Proportional, integral and derivative (PID) control
Control of flow, level, pressure and temperature
Ratio control
Cascade control
Multi-loop control
Interacting control loops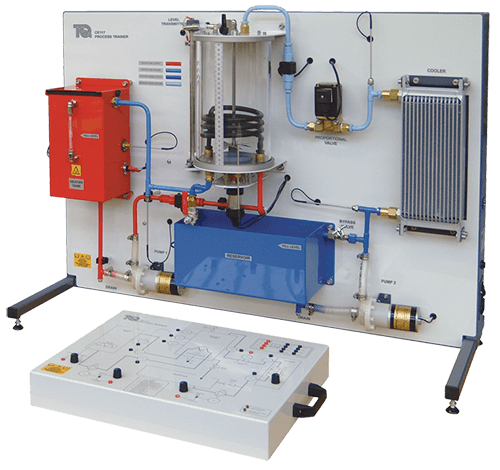 Using water as the working fluid, the equipment allows safe, practical experiments on control of flow, liquid level, temperature and pressure. Students can study each of these separately or in combinations.

OVER 35 YEARS OF SERVICE
Providing insight, selection, installation, and ongoing support of the latest educational and career technology.
Request a Quote
Learn More About TecQuipment
For more information or to contact Buckeye Educational Systems, your Authorized TecQuipment Reseller, call 800.522.0460 or email info@buckeye-edu.com