HVAC Framework
The HVAC program framework that was put together with the help of a HVAC dealer.  It is based off a 145 hour "Core Skills Lab" , where the students learn the foundational skills of electrical and thermal dynamics with a strong emphasis on troubleshooting. According to the rep, most of the problems in HVAC are electrical in nature and most HVAC don't spend enough time on these basics (and troubleshooting) – same with the basic principles of thermal dynamics.
Once the students go through the "Core Skills Lab", they move into next 145 hours of the "Technician Lab" .  The Technician Lab will use all the newer Amatrol HVAC trainers.  The T7100 and T7130 will also focus heavily on Troubleshooting with FaultPro built into these systems.  After the students have formed a solid foundation in electrical and HVAC troubleshooting, they would progress into working on residential and commercial units (installing and troubleshooting). 
K-12 Products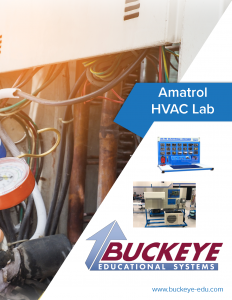 OVER 35 YEARS OF SERVICE
Providing insight, selection, installation, and ongoing support of the latest educational and career technology.
Request a Quote
Contact Us
For more information or to contact Buckeye Educational Systems, call 800.522.0460 or email info@buckeye-edu.com