R-134a Refrigerant Recovery & Charging Training System
Practice Refrigerant Recovery & Charging Skills on Real-World Equipment
Amatrol's Refrigerant Recovery and Charging Learning System for R-134a teaches aspiring HVACR technicians the critical hands-on skills they need to succeed on the job. Learners will work with real equipment, such as: a recovery machine, manifold gauges, submersible coolers and more.
In addition to developing hands-on skills with real equipment, learners will use Amatrol's interactive multimedia eLearning curriculum to cover a wide variety of relevant refrigerant recovery and charging topics, including: refrigerant fundamentals, leak detection and pressure and temperature measurement.
Theoretical Knowledge & Hands-on Skills
The combination of theoretical knowledge and hands-on skills solidifies understanding and creates a strong basis for pursuing more advanced skills. For example, learners using these systems can expect to learn critical hands-on skills, including:
Using a refrigerant pressure-temperature chart
Using soap to check for refrigerant system leaks
Using a compound gauge to measure refrigeration system pressure
Removing a service valve core
Using the superheat method to determine refrigeration system change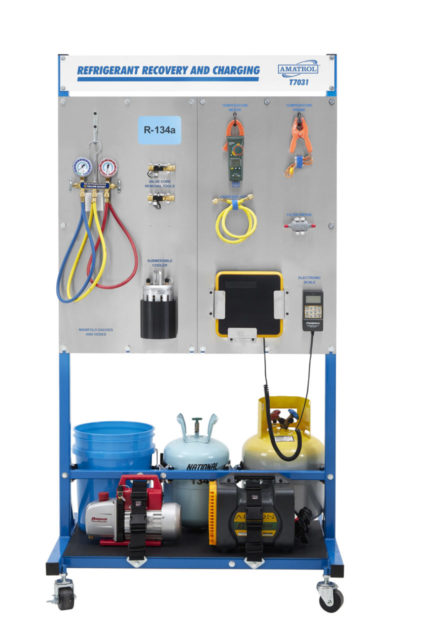 Student Reference Guides
Sample copies of the Refrigerant Recovery and Charging Student Reference Guides are also included with the systems for your evaluation. Sourced from the systems' curriculum, the Student Reference Guides take the entire series' technical content contained in the learning objectives and combines them into a perfectly-bound book.

OVER 35 YEARS OF SERVICE
Providing insight, selection, installation, and ongoing support of the latest educational and career technology.
Request a Quote
Learn More About Amatrol
For more information or to contact Buckeye Educational Systems, your Authorized Amatrol Reseller, call 800.522.0460 or email info@buckeye-edu.com