Exploring STEM
500+ hands-on learning activities. Over 300 hours of curriculum material.
Design Technology and STEM Inquiry are the two curriculum streams included in the Exploring STEM cloud content library. They work in connection to provide a complete STEM education program. Both streams involve modeling and simulation, communication and collaboration, critical thinking, and research and investigation. The curriculum is available in English and Spanish.
Design Technology – Technology, Engineering Design, Application, Problem Solving
STEM Inquiry – Science, Mathematics, Science Practices, Experiment
12 STEM Themes – Engineering Design, Biomedical Technology, Energy in Buildings, Agricultural Technology, Construction Engineering, Mobile Robotics, Mechatronics, Transportation Technology, Manufacturing Technology, Industrial Robotics, Mass Transportation, and Electronics Technology
---
Standards – ITEEA | CCSS | NGSS
The Exploring STEM program has been developed to align with national standards. These include the ITEEA Standards for Technological Literacy (ITEEA), the Common Core State Standards (CCSS), and the Next Generation Science Standards (NGSS). The curriculum has also been mapped to a range of state standards for science and career and technical education. Please contact us or your local representative if you would like further details relevant to your state.
Integrated Academic Support
Our Exploring STEM courses contain integrated academic support materials that can be accessed by students at any time. These support materials are designed to aid understanding of the key concepts within the Exploring STEM program. The blended mix of support for science, math, and English language arts will give your students the skills and confidence they need to complete the program.
---
Aims of the Exploring STEM Program

To increase students' enthusiasm for STEM through active, project-based learning
To improve students' understanding of basic concepts of engineering and technology
To help students see the connections between the STEM subjects
To expose students to a wide range of STEM career pathways
To help students understand the diversity of applications of STEM in a wide range of different areas of industry and everyday life.
Develop 21st Century Skills such as critical thinking, problem solving, creativity, team working, and the ability to process, question, and analyze information.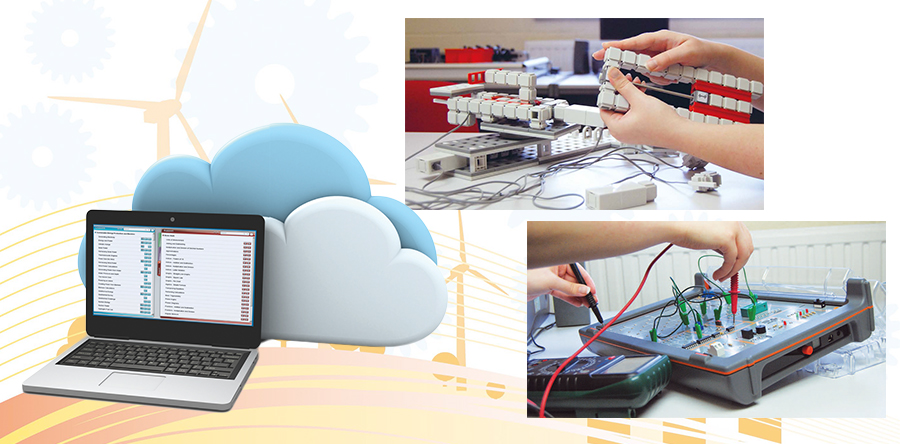 ---
Cloud Content
Our unique cloud-based resources provide digital content to help you plan and conduct lessons for students working in groups and alone, while our Learning Management System automatically tracks and records the progress of your students.
What's more, you can see where our resources link up to state and national curriculum standards, and access both academic and technical subject support. Finally, there are support materials and practical tasks for when you want to get hands-on in the classroom.
You can access the cloud from anywhere where you have an Internet connection and a web browser. What's more, the learning content updates automatically whenever we make changes to keep it up to date. We promise that our out-of-the box cloud set-up is so easy, you'll be up and running in just 2 minutes.
---
Active Learning
Our curriculum material uses Active Learning to foster a range of important skills across the core STEM subjects. Our Presentations and Investigations promote processing, questioning and analyzing information. Our Simulations and Practical Tasks involve problem solving, creativity and critical thinking, while enhancing manipulative skills. Finally, each course concludes with a Design Project, to develop computer programming skills, and promote communication and interpersonal skills through team working.

OVER 35 YEARS OF SERVICE
Providing insight, selection, installation, and ongoing support of the latest educational and career technology.
Request a Quote
Learn More About LJ Create
For more information or to contact Buckeye Educational Systems, your Authorized LJ Create Reseller, call 800.522.0460 or email info@buckeye-edu.com