Instructor Desk
Select from various instructor desks and teachers desk designs that can be configured to satisfy different needs, tastes, and teaching styles. A functional teachers desk allows teachers improved interaction with their students and offers instructors an efficient place to work, so we design our teachers desks to come in various shapes and sizes.
Optional mobile pedestals provide secure storage from instructional tools, or choose from overhead storage, center drawers, storage cabinets, lateral files, vertical files, and a wide array of fixed pedestals.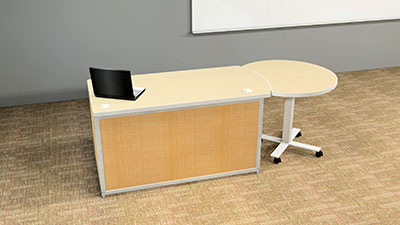 OVER 35 YEARS OF SERVICE
Providing insight, selection, installation, and ongoing support of the latest educational and career technology.
Request a Quote
Learn More About Interior Concepts
For more information or to contact Buckeye Educational Systems, your Authorized Interior Concepts Reseller, call 800.522.0460 or email info@buckeye-edu.com