Inventables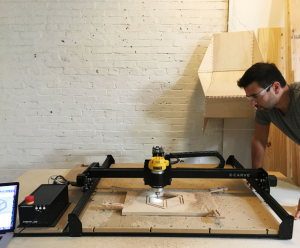 Our goal at Inventables is to ignite a revolution in digital fabrication. To do this, we make products that bring out the maker in all of us.
The key to this is simplifying the path from idea to finished product. We believe that 3D carving is the most effective and efficient way for people to bring their ideas to life. We offer everything necessary to make 3D carving easy and inspiring: powerful machines, intuitive software, and unique, beautiful materials. Founded in 2002 by CEO, Zach Kaplan, Inventables is proud to be based in Chicago.
Carve your own path with Inventables. Everything you need is right here: free software, robust 3D carving machines, unique materials, and useful accessories. Explore our best selling machine, X-Carve, for reliability, customization, and a price range right for your budget!
Effortlessly design projects in our Easel software and bring them to life with our affordable, easy-to-use X-Carve CNC machine.
Inventables Products

OVER 35 YEARS OF SERVICE
Providing insight, selection, installation, and ongoing support of the latest educational and career technology.
Request a Quote
Learn More About Inventables
For more information or to contact Buckeye Educational Systems, your Authorized Inventables Reseller, call 800.522.0460 or email info@buckeye-edu.com