VMC 1300
CNC Milling Machine
A 3-axis CNC milling machine available either floor standing or for bench mounting, with totally enclosed high visibility interlocking guard, suitable for all levels of education and training. Programmable spindle speeds and feedrates make the VMC 1300 ideal for cutting a range of resistant materials such as wax, plastic, acrylic, free cutting alloys, aluminum and steel. The VMC 1300 Pro has a more powerful, higher speed spindle (6000 rpm) for heavy duty cutting.
Now available with 6 or 8 Station Automatic Tool Changer and the option of Flood Coolant with Industrial Cabinet Base.
Includes:
VR CNC Milling Operating Software (PC not included)
QuickCAM 2D Design software (1 seat)
Power Drawbar with Manual Actuation
Workholding Clamps
Installation and Instruction Manuals
USB Connection
Mechanical Details:
Machine Length (A): 1300mm
Machine Depth (B): 750mm
Machine Height (C): 1325mm
Machine Weight: 353kg – 778.23lbs
Table Size: 600 x 180mm
Table to Spindle: 305mm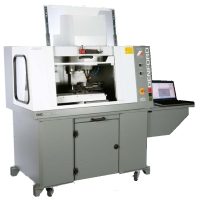 Optional Equipment Includes:
Table Mounted 6 or 8 Station Automatic Tool Changer (which can be removed to enable full 375mm X axis travel)
Pneumatic Vice and Guard
Spray Mist Coolant
Automatic Lubrication System
4th Axis Programmable Rotary Fixture (not available with flood coolant model)

OVER 35 YEARS OF SERVICE
Providing insight, selection, installation, and ongoing support of the latest educational and career technology.
Request a Quote
Learn More About Denford
For more information or to contact Buckeye Educational Systems, your Authorized Denford Reseller, call 800.522.0460 or email info@buckeye-edu.com