Turn 370
High Capacity CNC Lathe
A high capacity 2-axis CNC Lathe complete with flood coolant and industrial cabinet base and totally enclosed high-visibility interlocking guard, suitable for all levels of education and training. Programmable spindle speeds and feedrates make the Turn 370 PRO ideal for cutting a range of resistant materials such as wax, plastic, acrylic, free cutting alloys, aluminum and steel.
Includes:
VR CNC Turning Operating Software (PC not included)
QuickTURN 2D Design software (1 seat)
Flood Coolant and Industrial Cabinet Base
Quick Change Toolpost and Holder
Manual Self Centering 125mm 3 Jaw Chuck
Installation and Instruction Manuals
USB Connection
System Requirements:
1 GHz Processor
1 GB Memory
32 GB Hard Disk
Microsoft Windows 7, 8 & 10
OpenGL Graphics Card or built in Graphics to support a minimum of 1024 x 768 Screen Resolution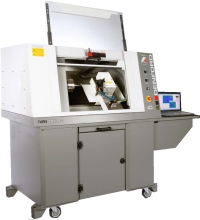 Optional Equipment Includes:
8 Station Programmable Turret (supplied in lieu of Quick Change Toolpost)
Pneumatic Chuck and Guard
Tail Stock
Automatic Lubrication System
Mechanical Details:
Machine Length (A): 1330mm
Machine Depth (B): 750mm
Machine Height (C): 1445mm
Machine Weight: 400kg – 881.85lbs
Travel X Axis: 200mm
Travel Z Axis: 275mm

OVER 35 YEARS OF SERVICE
Providing insight, selection, installation, and ongoing support of the latest educational and career technology.
Request a Quote
Learn More About Denford
For more information or to contact Buckeye Educational Systems, your Authorized Denford Reseller, call 800.522.0460 or email info@buckeye-edu.com