TrueVIS SG2/VG2 Series Printer/Cutters
Vibrant Images and Brilliant Results
Everything about the way the TrueVIS produces images has been perfected. Four newly developed FlexFire™ print heads deliver a high firing frequency and precision droplet placement in three sizes, with a wide print swath. The result: every drop of ink falls exactly where it is intended, delivering beautiful images and uniform colors at production speeds on a wide variety of materials.

Maximum Ink Quality at Minimal Cost
All new TrueVIS INK is a major step forward in eco-solvent technology, delivering exceptional color while meeting improved environmental standards. Virtually odorless and GREENGUARD Gold certified for low VOC's, the brilliant new ink system features cost-effective 500 ml pouches that fit neatly into reusable cartridges and slide into a hidden ink bay for clean usage with less waste. To give users both maximum productivity and enhanced output, TrueVIS INK is available in configurations that include 4-color, 7-color or 8-color.

New Cutting Technology Improves Accuracy and Saves Time
Roland DG started with cutting and we haven't stopped since. The TrueVIS features our most advanced print/cut technology to date. A new, improved cutting carriage, blade and blade holder over increased down force and accuracy allowing you to work with a wider variety of media.



Smart Tech that Communicates with Your Tech
The new wireless Roland DG MobilePanel allows you to perform control panel functions of the VG series with your existing smartphone (iOS or Android operating systems) using a Bluetooth connection. This innovative new feature provides a rich interface directly on, or remotely in range of your TrueVIS, so you can test print and perform cleaning functions and maintenance procedures. Very smart.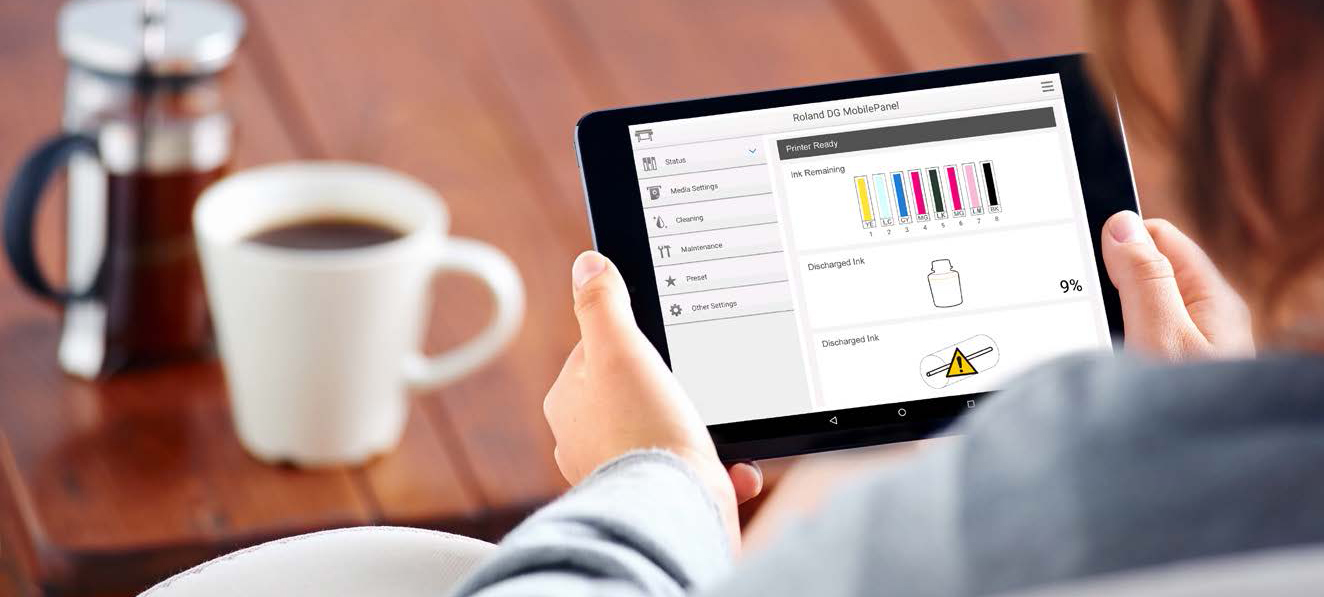 New VersaWorks® Dual RIP Included
Roland DG's RIP software, VersaWorks Dual – free with the VG series – features a new core engine for better file processing, including native PDFs and files with transparencies, plus the advanced and ease-of-use capabilities that VersaWorks is known for.
Highlights and Specifications
Printer plus integrated contour cutter available in 64-inch and 54-inch models
New GREENGUARD Gold certified TrueVIS INK comes in cost effective, 500ml pouches with reusable cartridges
Four new FlexFire™ printheads fire precision droplet patterns with maximum speed, quality and effieffciency
New Bluetooth-enabled Roland DG MobilePanel allows for smartphone or tablet control panel operation
New cutting technology for increased down force and media compatibility
Illuminated and colored LED lights signal status of the machine
Included take-up unit boosts performance during long production runs and optional dryer unit available
Available in 4-color, 7-color and 8-color. Ink options include CMYK, Light Cyan, Light Magenta, Light Black and White
Maximum resolution: 900 dpi
Maximum speed: 375 sqft/hr.
Production speed: 153 sqft/hr. (dual CMYK, 6-pass)
Motor and drive systems provide excellent durability for lasting, high-volume production
Included new VersaWorks Dual RIP software for improved file processing in a simple, yet advanced interface

OVER 35 YEARS OF SERVICE
Providing insight, selection, installation, and ongoing support of the latest educational and career technology.
Request a Quote
Learn More About Roland
For more information or to contact Buckeye Educational Systems, your Authorized Roland Reseller, call 800.522.0460 or email info@buckeye-edu.com