Steering and Suspension System Trainer
This real component trainer provides the instructor with a working light vehicle steering and suspension system for group or whole-class demonstration.
This includes all of the individual components of the system presented on a movable, steel frame so that each component can be clearly identified. The system comprises front wheel assemblies, MacPherson strut and coil spring assemblies, road wheels and power steering rack.
The trainer can also be used in conjunction with our optional cloud-based software, which offers online practical tasks as well as interactive theory presentations, investigations, and assessments, which link directly to the practical activities carried out using this resource.
Trainer Enables Demonstrations of the Following:
Introduce the steering and suspension system trainer
Inspect steering shaft universal joint, flexible coupling, collapsible column, lock cylinder mechanism and steering wheel
Disassemble, inspect and reassemble rack and pinion steering gear
Remove and replace manual or power rack and pinion steering gear
Inspect and replace manual or power rack  and pinion steering gear inner track rod ends and gaiters
Inspect power steering fluid levels and condition
Diagnose power steering fluid leakage
Remove, inspect and replace power steering pump, mounts, seals, pump belt and pump pulley
Remove, inspect and install coil spring and spring insulators
Inspect, replace and adjust track rod ends, track rod sleeves and clamps
Remove, inspect and install hub carrier assemblies
Inspect, remove and replace dampers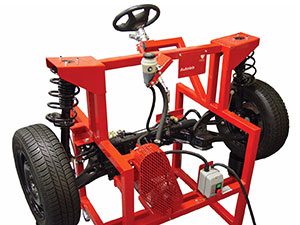 Items Included:
Other Items Required:
Automotive workshop tools
General Information
Trainer Dimensions: 1750 x 1250 x 1500 mm (W, L, H)
Packed Volume: Approx. 3.75 m3
Packed Weight: Approx. 350 kg

OVER 35 YEARS OF SERVICE
Providing insight, selection, installation, and ongoing support of the latest educational and career technology.
Request a Quote
Learn More About LJ Create
For more information or to contact Buckeye Educational Systems, your Authorized LJ Create Reseller, call 800.522.0460 or email info@buckeye-edu.com