Sectioned HGV Diesel Engine Trainer
This trainer provides the instructor with a fully sectioned 4-cylinder truck diesel engine for group or whole-class demonstration. This trainer is mounted on a self-contained steel frame and base plate, complete with castors. The engine is operated by hand and is sectioned so that all moving components can be seen and the way they interact can be observed.
The Sectioned HGV Diesel Engine Trainer can also be used in conjunction with our optional cloud-based software, which offers online interactive theory presentations, investigations, and assessments, which support the practical activities, carried out using this resource.
The Exposed Components Include:
Cylinders
Pistons
Cylinder head and valves
Diesel injection system
Cooling system
Oil system
Alternator
Items Included:
Trainer
Practical Activity Manual
Other Items Required:
Automotive workshop tools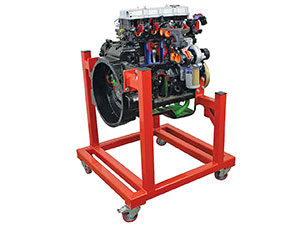 General Information
Trainer Dimensions: 1000 x 1100 x 1300 mm (W x L x H)
Packed Volume: Approx 3.51 m3
Packed Weight: Approx. 650 kg

OVER 35 YEARS OF SERVICE
Providing insight, selection, installation, and ongoing support of the latest educational and career technology.
Request a Quote
Learn More About LJ Create
For more information or to contact Buckeye Educational Systems, your Authorized LJ Create Reseller, call 800.522.0460 or email info@buckeye-edu.com