Router 6600
Large Format, High Speed Floor-Standing Router
A large format, high speed Router, complete with a built-in machine bench, offering large machining capacity (table size 1080 x 640mm) at an exceptional price. The Router 6600 is specifically designed for education and training and is ideal for cutting a range of resistant materials such as hard and soft wood, plastic, modelling foam, acrylic and prototyping material.
Includes:
VR CNC Milling Operating Software (PC not included)
QuickCAM 2D Design software (1 seat)
Universal Machine Bench
Aluminum T Slot Table
Outlet for Dust Extraction System
Workholding Clamps
Installation and Instruction Manuals
USB Connection
Mechanical Details:
Machine Length (A): 1825mm
Machine Depth (B): 985mm
Machine Height (C): 1540mm
Machine Weight: 430kg – 947.99lbs
Travel X Axis: 1000mm
Travel Y Axis: 600mm
Travel Z Axis: 110mm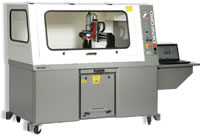 Optional Equipment Includes:
Large Format Vacuum Bed
Vacuum Pads
F1 in Schools Car Manufacturing Fixture
4th Axis Programmable Rotary Fixture
3D Scanning Attachment
Dust Extraction Unit
Computer Support Extension

OVER 35 YEARS OF SERVICE
Providing insight, selection, installation, and ongoing support of the latest educational and career technology.
Request a Quote
Learn More About Denford
For more information or to contact Buckeye Educational Systems, your Authorized Denford Reseller, call 800.522.0460 or email info@buckeye-edu.com