METAZA MPX-95 Impact Printer
Perfect for kiosk and gift shop applications, the METAZA MPX-95 photo impact printer is an affordable, easy-to-operate solution for personalizing high-value metal items and making them even more unique and profitable.
Added Versatility with Removable Base and Optional Kits
The METAZA MPX-95 photo impact printer introduces new features for imprinting onto more gift items and a wider range of equipment. These include a removable base plate and base unit to allow imprinting onto larger items, and the following kits for expanding application possibilities:
Gift Kit
Featuring a standard center vise and adjustable clamp-pin vise, the Gift Kit supports personalization of simple metal items plus curved and irregularly shaped items. The Gift Kit is an essential addition for gift personalization.
DPM Kit
Featuring a DPM vise and adjustable clamp-pin vise, the DPM Kit allows users to effectively mark onto simple and intricately shaped surgical instruments, industrial parts and tools. The DPM KIT is an essential addition for marking tools and surgical items.
More Precision, Less Fuss
Without debris, noise or odor, users can add photo quality detail and complex barcode data to a printable area as small as one square millimeter and as large as 80 millimeters. There's far better accuracy and a lot less clean-up with a MPX-95 photo impact printer.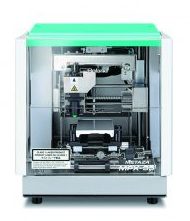 Other Distinguishing Features
Diamond-tipped stylus marks silver, copper, platinum, brass, and aluminum up to 200HV
Includes easy-to-use METAZA Studio software – DPM version features 2D symbol code creator
Built-in laser pointer for quick and precise imprint set-up
Automatic surface detection
Variable data printing capabilities for applying sequential data
Compact and fully enclosed – runs quietly and safely in any kiosk, store or lab

OVER 35 YEARS OF SERVICE
Providing insight, selection, installation, and ongoing support of the latest educational and career technology.
Request a Quote
Learn More About Roland
For more information or to contact Buckeye Educational Systems, your Authorized Roland Reseller, call 800.522.0460 or email info@buckeye-edu.com