Matter and Form 3D Scanner
Matter and Form is a leading provider of innovative 3D scanning solutions that support ingenuity, artistry, and learning.
---
---
Key Features
V2 3D Scanner
Designed to transform beginners to professionals, the V2 is the next evolution of desktop 3D scanning.
Unlock your potential with a 3D scanner powered by MFStudio, and experience the rewarding feeling of watching your real life objects become digitized before your eyes.
MFStudio software
Your hardware is only as good as the software that runs it. MFStudio has been designed over 5 years with the feedback from our users. It's a powerful software tool that lets you fly through projects with ease. Enjoy total control over your scanning setup to achieve great results. Create something spectacular.
+Quickscan
Turbo boost your V2 3D scanner with the +Quickscan upgrade for MFStudio. +Quickscan lets you get complete geometry in as fast as 65 seconds. This add-on delivers game-changing speed, and real-time feedback, giving you license to scan freely without having to wait.
Sleek, foldable design
Start introducing digital techniques into your creative process. Whether you are new to 3D, or you are a digital pro, the V2 can open up your possibilities. Build an intuitive bridge between the physical and virtual mediums to diversify your process.
Compatibility
Works with almost any video graphics card, including most legacy cards.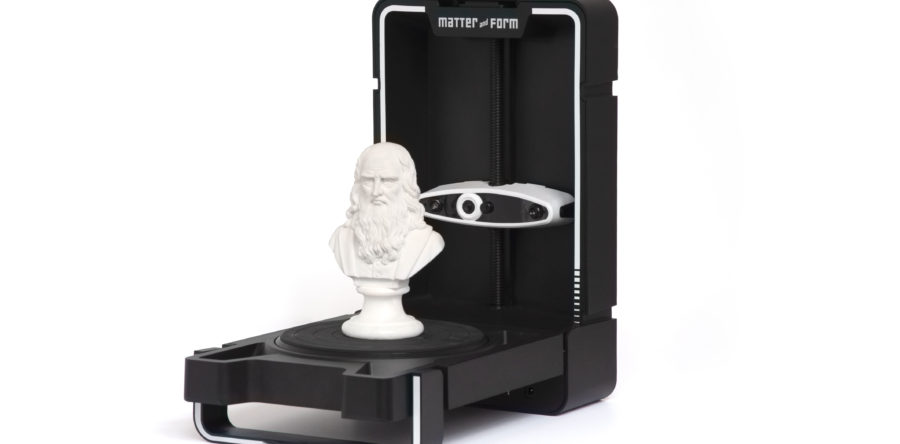 Matter and Form is credited for bringing low cost 3D scanning to the world. They have announced the release of the second generation of their flagship product, the MFS1V2 Desktop 3D scanner. The V2 improves upon its predecessor as an essential part of a tech toolkit, with improved accuracy and usability. Designed for use with MFStudio (Matter and Forms desktop 3D scanning software), users will find themselves experimenting and learning to master the complexities of 3D scanning quickly.
---
"3D creation represents a digital frontier. 3D scanners are on the front line, but you need the right tool for the job, one that gives you a great experience. Matter and Form is delivering that in the V2."
– Drew Shark, CEO and founder of Matter and Form.

OVER 35 YEARS OF SERVICE
Providing insight, selection, installation, and ongoing support of the latest educational and career technology.
Request a Quote
Learn More About Matter and Form
For more information or to contact Buckeye Educational Systems, your Authorized Matter and Form Reseller, call 800.522.0460 or email info@buckeye-edu.com