Mass Transit System Trainer
The STEM learning packages have been designed to provide practical real world problem solving tasks and activities within the classroom or lab environment. These activities will provide an engaging approach that helps instructors show contextualized linkages between Science, Technology, Engineering and Mathematics.
This trainer can also be used in conjunction with our optional cloud-based STEM software packages, which offer online practical tasks as well as interactive theory presentations, investigations, and assessments, which link directly to the practical activities carried out using this resource.
Typical Practical Activities Include:
Identify transportation issues as problems that a Research and Design project might attempt to solve
Extract information to create a formal list of specifications for a Design Brief
Investigate and Research Transportation technologies
Use the Internet to research information about the fuels used in Propulsion Systems
Use a virtual laboratory to test materials for use in making electrical contacts
Items Included:
Maglev Track
2 Maglev Vehicles
Maglev Control Interface Unit
Maglev Connection Lead and Power Supply Set
Buffer Design Consumable Pack
Maglev Control software and Simulation CDROM
Parallel to USB Adapter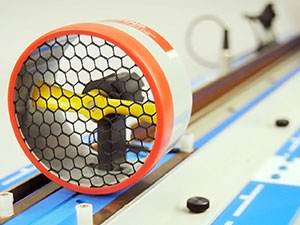 Other Items Required:
LJ Create Engineering or Technology Content
Computer with DVD Drive and Spare USB Port
150-01 Research and Design Consumables Pack
General Information
Power Requirements: 110 – 240V  50-60Hz
Maglev Track Dimensions: 1600 x 120 x 185 mm (W x H x D)
Packed Volume: Approx. 0.126 m3
Packed Weight: Approx. 12.1 kg

OVER 35 YEARS OF SERVICE
Providing insight, selection, installation, and ongoing support of the latest educational and career technology.
Request a Quote
Learn More About LJ Create
For more information or to contact Buckeye Educational Systems, your Authorized LJ Create Reseller, call 800.522.0460 or email info@buckeye-edu.com