Industrial Control Trainer
The STEM learning packages have been designed to provide practical real world problem solving tasks and activities within the classroom or lab environment.
The Industrial Control Trainer offers a classroom based resource for practical investigation of automated control systems. Users can select from a range of prepared demonstration programs to explore how step-based ladder logic programs are used in automated systems. Alternatively, students can create their own programs and see them in action using the included simulation package.
Typical Topic Areas Include:
Industrial Controllers
Truth Tables & Step Logic
Latching Actuators
Counting Parts
Timing Events
Measuring Part Width
Sorting Parts
Items Included:
Industrial Control Sorting Application
Power Supply
USB Lead
Accessory Kit (Includes conveyor shroud)
Hand Operated Air Compressor
Sorting Application Simulation Software
Curriculum in Digital Format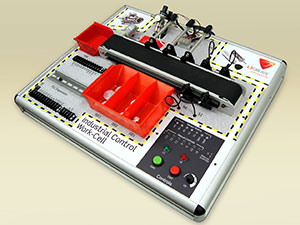 Other Items Required:
LJ Create Engineering or Technology Content (Optional)
Computer with Spare USB Port
General Information
Trainer Dimensions: 660 x 600 x 160 mm (W x D x H)
Power Requirements: 110 – 240V  50-60Hz
Packed Volume: Approx. 0.378 m3
Packed Weight: Approx. 25.68 kg

OVER 35 YEARS OF SERVICE
Providing insight, selection, installation, and ongoing support of the latest educational and career technology.
Request a Quote
Learn More About LJ Create
For more information or to contact Buckeye Educational Systems, your Authorized LJ Create Reseller, call 800.522.0460 or email info@buckeye-edu.com