Hybrid Vehicle Systems Panel Trainer
Demonstrate, Investigate, and Fault-Find
This trainer provides students and instructors with opportunity to examine and study a simulation of a hybrid vehicle electrical system. It is designed to allow access to a simulation of the mechanical operation as well as provide a mimic of the electrical power flow.
The panel also includes test points at a safe voltage level to allow for investigation of electrical circuits. To facilitate the development of techniques in diagnostics and fault-finding skills, the panel includes a range of fault-insertion options to simulate typical real-world system malfunctions.
Features:
Simulation of mechanical and electrical power flow
Dashboard with speed, RPM, ECO monitor and temperature displays
Brake and accelerator pedals
Gear-shift control and park push-button
Ignition and power push-button
Ignition and power push-buttons
Gradient switch
Controls to adjust external, internal, cabin and coolant temperatures
Terminals to make DC and AC circuit measurements
Hybrid trans-axle featuring a planetary gear set
Scan tool to display diagnostic trouble codes
Manual or automatic fault insertion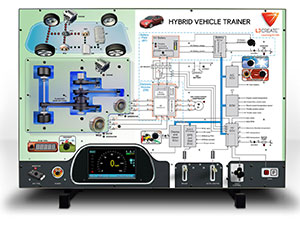 Items Included:
Trainer
Curriculum in digital format
Wall mounting brackets
Bench stands
Digital Multimeter
General Information
Trainer Dimensions: 900 x 170 x 600 mm (W, D, H)
Packed Volume: Approx. 0.316 m3
Packed Weight: Approx. 26 kg

OVER 35 YEARS OF SERVICE
Providing insight, selection, installation, and ongoing support of the latest educational and career technology.
Request a Quote
Learn More About LJ Create
For more information or to contact Buckeye Educational Systems, your Authorized LJ Create Reseller, call 800.522.0460 or email info@buckeye-edu.com