Green Energy in Buildings Trainer
Our STEM learning packages have been designed to provide practical real world problem solving tasks and activities within the classroom or lab environment.
The Green Energy in Buildings package puts a model home into the classroom. This allows students to investigate lighting technologies, insulation properties, glazing, and air-conditioning, in addition to green energy production and related topics.
Interface software displays in real time the energy consumption of the building, as well as key data such as temperatures and light levels. A curriculum CD is included with theory and practical learning content, as well as tutor support materials.
Typical Practical Activities Include:
Investigating Energy Use in Buildings
Home Wind Turbines
Solar Electric Systems
Energy for Heating Buildings
Solar Water Heating
Items Included:
Eco-house
Wind turbine
Sun simulation lamp
3-speed desk fan
Interface software, USB lead and power supply
Curriculum CD
Other Items Required:
Computer with DVD Drive and Spare USB Port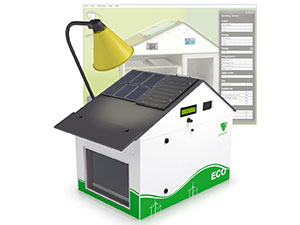 Also Recommended:
EXS-AL Exploring STEM Software Library – Annual Site License
General Information
Dimensions: 650 x 510 x 490 mm (W x H x D)
Height with lamp assembly: 1030 mm
Power Requirements: 110 – 240V  50-60Hz
Packed Volume: Approx. 0.36 m3
Packed Weight: Approx. 25 kg

OVER 35 YEARS OF SERVICE
Providing insight, selection, installation, and ongoing support of the latest educational and career technology.
Request a Quote
Learn More About LJ Create
For more information or to contact Buckeye Educational Systems, your Authorized LJ Create Reseller, call 800.522.0460 or email info@buckeye-edu.com