Force and Energy Kit
Our range of science experiment kits will equip you with all you need to carry out each of the practical experiments included in your LJ Create science program. The kits can be used for teacher demonstration, individual student, or group activities.
Our science kits are also supplied with inventory reference sheets to provide simple resource management and replenishment of any consumable items. This kit is designed to explore more advanced aspects of force and energy when used in conjunction with the physics apparatus kit.
Typical Practice Tasks Include:
Energy Transformations
Newton's Law of Motion
Work and Energy
Items Included:
Single Pulley Blocks
Double Pulley Block
Converting Energy PCB
Moving Coil Voltmeter
Moving Coil Ammeter
Wooden Surface
Spring Balances
G-clamp
4mm Connection Lead Set
Power Supply
String
Steel Rods
Storage Box
Inventory Sheet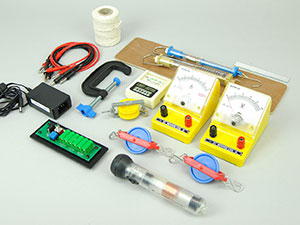 Other Items Required:
LJ Create Science Content and Computer
Physics Apparatus Kit 511-01
General Information
Packed Volume: Approx. 0.0185 m3
Packed Weight: Approx. 2.8 kg

OVER 35 YEARS OF SERVICE
Providing insight, selection, installation, and ongoing support of the latest educational and career technology.
Request a Quote
Learn More About LJ Create
For more information or to contact Buckeye Educational Systems, your Authorized LJ Create Reseller, call 800.522.0460 or email info@buckeye-edu.com