Electronics Study Trainer
The Electronic Study Trainer provides the basis for a practical resource that introduces students to core electronics and electronic systems through a wide range of practical activities. The Study Trainer allows the range of experiment cards to be connected for the practical study of electronics.
These boards can also be used in conjunction with our optional cloud-based software, which offers online practical electronics tasks as well as interactive theory presentations, investigations, and assessments, which link directly to the practical activities carried out using this resource.
The Study Trainer includes input, process, and output devices required for the various circuit investigations. Faults can also be inserted into the experiment cards via the Motherboard, enabling students to investigate electronic faultfinding techniques.
Devices On-board Trainer
Experiment card mounting area
Eight logic sources
Two de-bounced press switches
Slow and fast range clock
Two inverting buffers
Buzzer
Amplifier and loudspeaker
Included Component Set
A total of 28 components mounted on robust carriers and 2 ICs
Switches (toggle, microswitch, pushbuttons)
Lamp
Resistors (47R, 100R, 1K, 4.7K, 10K, 47K, 100K, 220K, 470K)
Capacitors (470 nF, 1 µF, 10 µF, 100 µF)
Inductor (100 mH)
Sensors (thermistor, phototransistor, microphone)
Other Items Required
Some tasks will require a Dual Trace Oscilloscope (OSC1 or similar) and one or more Multimeters (DM1 or similar)
Optionally a Virtual Instramentation Unit (300-03 or similar) may be used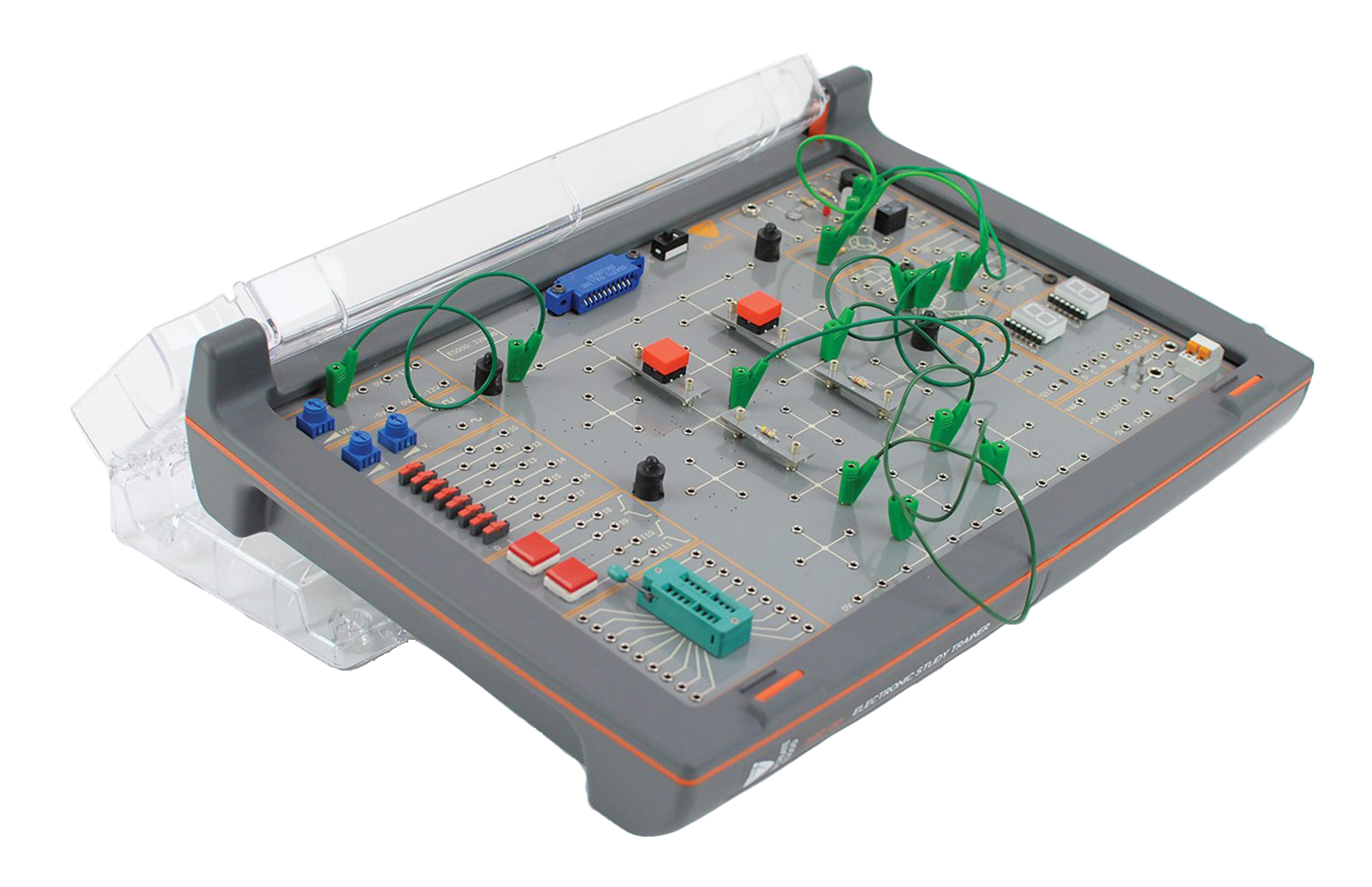 Items Included
Study trainer
Component set
Connection lead set
Storage case
General Information
Power requirements: 110 – 240V  50-60Hz
Shipping volume: approx. 0.024 m3
Shipping weight: approx. 4 kg

OVER 35 YEARS OF SERVICE
Providing insight, selection, installation, and ongoing support of the latest educational and career technology.
Request a Quote
Learn More About LJ Create
For more information or to contact Buckeye Educational Systems, your Authorized LJ Create Reseller, call 800.522.0460 or email info@buckeye-edu.com