Electrical Circuits Kit
Our range of science experiment kits will equip you with all you need to carry out each of the practical experiments included in your LJ Create science program. Each of the kits are provided in a labelled storage box to allow for easy identification and selection during classroom activities.
Our science kits are also supplied with an inventory and reference sheet to provide simple resource management and replenishment of any consumable items. A range of items are supplied in order to carry out the scientific hands-on learning tasks, each item is conveniently contained within a durable vacuum formed box insert.
The Electrical Kit comprises all that is needed to investigate simple electrical circuits and components. The large scale mounted components include a lamp, switch, battery, buzzer and electromagnet. Each component has been designed for elementary level teaching and is connected by simple leads and crocodile clips.
Typical Practical Tasks Include:
Electro-magnets
Electric Circuits
Electricity in Circuits
Alternative Energy
Items Included:
Solar PV Panel
Electro-magnetic Component Board
Electric Motor Component Board
Switch Component Board
2 Battery Component Board
Buzzer Component Board
Conductivity Tester Component Board
Lamp Component Board
Material Samples
Electromagnetic Weights and Hanger
Connection Leads
Storage Box
Inventory Sheet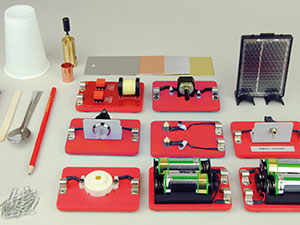 Other Items Required:
LJ Create Science Content and Computer
Some activities require Apparatus Kit 500-01 or 501-01
General Information
Packed Volume: Approx. 0.001 m3
Packed Weight: Approx. 2.5 kg

OVER 35 YEARS OF SERVICE
Providing insight, selection, installation, and ongoing support of the latest educational and career technology.
Request a Quote
Learn More About LJ Create
For more information or to contact Buckeye Educational Systems, your Authorized LJ Create Reseller, call 800.522.0460 or email info@buckeye-edu.com