EinScan-SE & EinScan-SP 3D Scanners
The Next Generation of EinScan Desktop 3D Scanners
Introducing the EinScan SE (Elite) and EinScan-SP (Platinum), with unique specifications designed to meet the requirements of most applications.
Multi-functional: Capture 3D data easier and faster than ever
Dual scan modes: Auto Scan and Fixed Scan
Wide scan range: Capture objects from small to large
Using safe, white light scanning, the EinScan-SE & SP Desktop 3D Scanners are easy enough for anyone to use. Just click the start button, and the scan process will turn your object into a 3D model that can then be printed on a 3D printer, like Afinia's award-winning H400+ or H+1. These EinScan models are also compact and lightweight, allowing for easy transportation.
EinScan SE (Elite)
A Powerful Companion for Desktop 3D Printing Applications
The Next Innovative Desktop 3D Scanner
Easiest 3D Scanning Experience for Non-technical Users
EinScan SP (Platinum)
Ensures Designers Access to a Fast, Accurate, & Reliable 3D Digital Experience
Faster Scanning & Higher Accuracy
EinScan-SP Provides a Higher Accuracy of 0.05mm for a Single Scan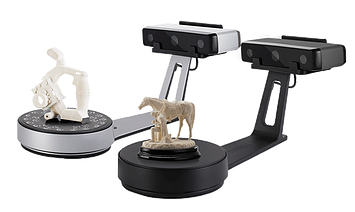 OVER 35 YEARS OF SERVICE
Providing insight, selection, installation, and ongoing support of the latest educational and career technology.
Request a Quote
Learn More About Afinia 3D
For more information or to contact Buckeye Educational Systems, your Authorized Afinia 3D Reseller, call 800.522.0460 or email info@buckeye-edu.com