EinScan Pro 2X & 2X Plus
Improve Efficiency of High Quality 3D Modeling
Meet the completely-new EinScan Pro 2X & Einscan Pro 2X Plus, the next generation of handheld 3D scanners with the latest technology. These new models are based on the feedback from thousands of users and the valuable input of SHINING 3D's own Research and Development team. Faster and more accurate than ever before, the portable and versatile EinScan Pro 2X and EinScan Pro 2X Plus will improve the efficiency of high-quality 3D modeling.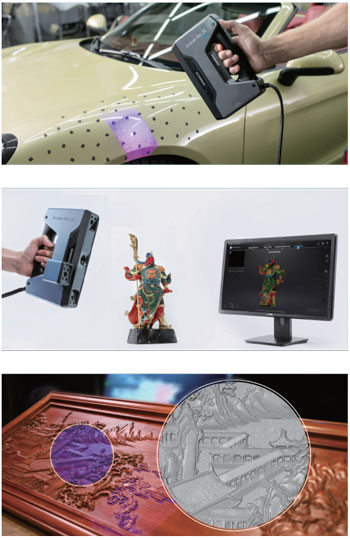 Portable & User-friendly Design
With its lightweight and compact size, you can easily take the EinScan Pro 2X or 2X Plus anywhere, just like a laptop, to enjoy plug-and-play installation and unlimited scanning
Scan Faster than Ever Before
Processes up to 1,500,000 points per second (30 fps) in Handheld Rapid Scan Mode.
High Speed Data Transmission – USB 3.0
High Accuracy
Single scan accuracy in Fixed Scan Mode, and Auto Scan Mode is up to 0.04 mm. When using markers, the volumetric accuracy under handheld scanning modes is up to 0.05mm+0.3mm/m.
Capture Fine Detail
The minimum point distance is up to 0.2mm under Handheld Rapid Scan and Handheld HD Scan modes, to generate high-resolution 3D data.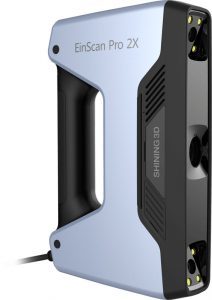 EinScan Pro 2X
The truly portable and versatile handheld 3D scanner for high-resolution results. A great option for scanning small to medium-sized objects and ideal for high-quality 3D modeling.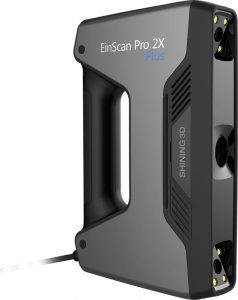 EinScan Pro 2X Plus
Featuring new, powerful algorithms and an intuitive workflow, the EinScan Pro 2X Plus is perfect for capturing 3D models of medium to large-sized objects with high efficiency. Also features an enhanced Handheld HD Scan Mode and enlarged scan range.
Modular Design to Meet a Wide Range of Applications
Color Pack, Industrial Pack, and HD Prime Pack as optional add-ons to EinScan Pro 2X series for various scanning experiences and applications.
Versatile Scan Modes & Align Modes
Supports Handheld Rapid Scan, Handheld HD Scan, Fixed Scan, and Auto Scan modes, as well as multiple alignment modes, including feature alignment, markers alignment, turntable coded targets alignment, and manual alignment.

OVER 35 YEARS OF SERVICE
Providing insight, selection, installation, and ongoing support of the latest educational and career technology.
Request a Quote
Learn More About Afinia 3D
For more information or to contact Buckeye Educational Systems, your Authorized Afinia 3D Reseller, call 800.522.0460 or email info@buckeye-edu.com