Chameleon Classroom System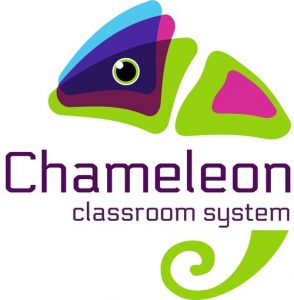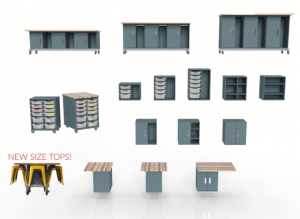 The Chameleon Classroom System is a game changer for classrooms across America! Now classrooms can be designed using our mobile pod system to create customized seating and storage for any grade level. Pod configurations designed in two or three seat increments, allow students to have individual storage space, and teachers have the freedom to quickly and easily change their teaching styles from lecture hall to collaborative groups of all sizes, to testing centers, and so much more. And it doesn't stop there! This same pod system can be used to design endless mobile storage configurations and can also be used as wall cabinetry. The Chameleon Classroom System brings a classroom together. It not only gives teachers the ability to teach according to their style, but it eliminates clutter and lack of space to bring a harmonious atmosphere where children can thrive!
The Chameleon Family
Three Heights: 26″ / 34″ / 42″
Two Frame Designs: 2 or 3 seats
Three pod types to choose from with optional doors and locks
One top that can be mounted three different ways
Two storage carts – 12 and 24-bin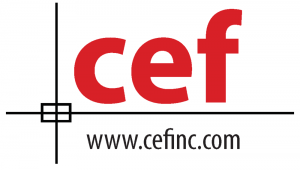 Details:
Standard:
ADA-Compliant – 34″ Height Pod
Three Fixed Heights: 26″ / 34″ / 42″ x 30″ W
Two Lengths: 50″ or 74″
Heavy-duty 4″ casters
Solid Maple UV-Coated Butcher Block Work Surface (1.5″ thickness)
Options:
Bullet-Resistant Front Panels
Solid Surface Nonporous Top
Doors & Locks
Seating Package for Two or Three People for 34″ / 42″ (includes 2 or 3 magnet mounts and 2 or 3 metal stools in your chosen color)
Seating Package for Two or Three People for 26″ (includes 2 or 3 Spaceforme Chairs in your chosen color)


OVER 35 YEARS OF SERVICE
Providing insight, selection, installation, and ongoing support of the latest educational and career technology.
Request a Quote
Learn More About CEF
For more information or to contact Buckeye Educational Systems, your Authorized CEF Reseller, call 800.522.0460 or email info@buckeye-edu.com