Flexible Hands-On and Online Automotive Solutions
Our practical NATEF-aligned programs take your students from beginner to shop-ready!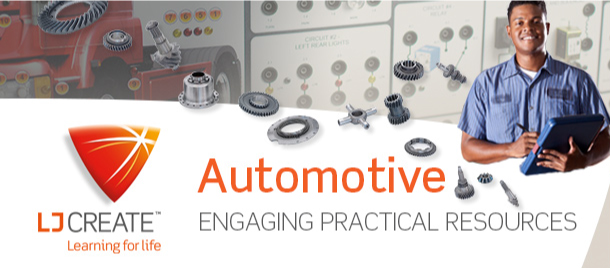 LJ Create Autolab
This program has been designed to allow you to build a NATEF-certified automotive program that will enable your students to become new, high-tech auto technicians.
A unique blend of online digital learning resources and practical equipment combines to create an automotive teaching program that will deliver the knowledge and practical skills students need to achieve success.
Our aim is to help you develop skilled technicians with a solid understanding of automotive technology and fault-finding techniques.
Automotive theory taught in a practical way…. including:

Sectioned Components
Exposing the inner workings of components provides a safe and accessible way of viewing how complex systems are constructed – key components are color-coded for easy identification. LJ Create cutaways are fitted with hand cranks to enable students and teachers to see how components interact with each other to create a fully-working system.

Autotronics Panel Trainers
LJ Create's innovative, computer-linked panel trainers simulate a range of complex vehicle operations that can be used in a safe classroom environment. These trainers are lightweight, freestanding, and are a great resource for front-of-class teaching and group activities.
Autotronics Boards
LJ Create's unique autotronics boards provide students with a practical approach to theoretical learning. Diagnostic and faultfinding skills can be developed from the safety of the classroom with these desktop systems… it's just like the real thing!
System and Component Rigs
Many automotive technology concepts are best taught using fully-functioning vehicle component rigs, where an instructor can show students a wide variety of diagnostic and maintenance techniques. Students are also able to perform tasks on systems without the need for a complete vehicle, which in some cases means practical tasks can also take place in the classroom.

Medium/Heavy Truck Rigs
Just like LJ Create's light vehicle system and component rigs, but bigger! All medium/heavy truck rigs are fitted with casters to enable transportation around the workshop.

OVER 35 YEARS OF SERVICE
Providing insight, selection, installation, and ongoing support of the latest educational and career technology.
Request a Quote
Learn More About LJ Create
For more information or to contact Buckeye Educational Systems, your Authorized LJ Create Reseller, call 800.522.0460 or email info@buckeye-edu.com