Afinia H+1
Versatility Meets Precision Performance
The Afinia H+1 is perfect for serious educators, engineers, and hobbyists. With intuitive software and features like fully-automated platform leveling, material-specific printheads, dual air filtration, and more, the H+1 is a top-of-the-line 3D printer. Plus, Afinia offers unbeatable and unlimited lifetime phone support, and a one-year warranty.
The new Afinia H+1 has a build area 5x larger (10 x 8 x 8.8 inches) than the H480, and has many additional enhancements:
Material-specific printhead system for optimal quality and compatibility
Circulating dual-filtered system
Automated leveling and height sensing
2-sided interchangeable build plate
Power loss print recovery filament run-out detection
Customizable temperature controls & filament profiles
Print queue for auto job management
Enclosed, heated platform & chamber
Smart support material technology
Multiple connectivity options (WiFi, USB, LAN, & USB Flash Drive)
---
Automatic Leveling
The auto-leveling feature is used to compensate for a warped or uneven print surface. It is not designed to take the place of manually leveling the print platform. The Platform Calibration Probe attaches magnetically to the extruder head and connects to the printer via a data cable. The probe measures the height of the build platform at nine different points, and takes a little over 2 minutes to complete the calibration.
---
Nozzle Height Detection
The nozzle detection feature measures the nozzle height to ensure that it is the correct distance from the printing surface prior to printing. This process takes about 20 seconds to complete. Using the nozzle height detection feature is more accurate than setting the nozzle height manually; and helps models adhere securely to print surface during printing
---
Easy to Use, Powerful Software
The 3D Printer Software features an easy-to-use interface for laying out, orienting, duplicating, and scaling parts. Simply use the included utility to calibrate the printhead height, and within minutes you are printing. It easily imports STL files, and the output can be customized in terms of the amount of support material and "raft" (base support) printed. Breakaway support material is simple to remove, and tools for aiding the breakaway are included. Design files for 3D printing can be created using online software, professional software such as SolidWorks™, or by downloading from the extensive online 3D printer community for free.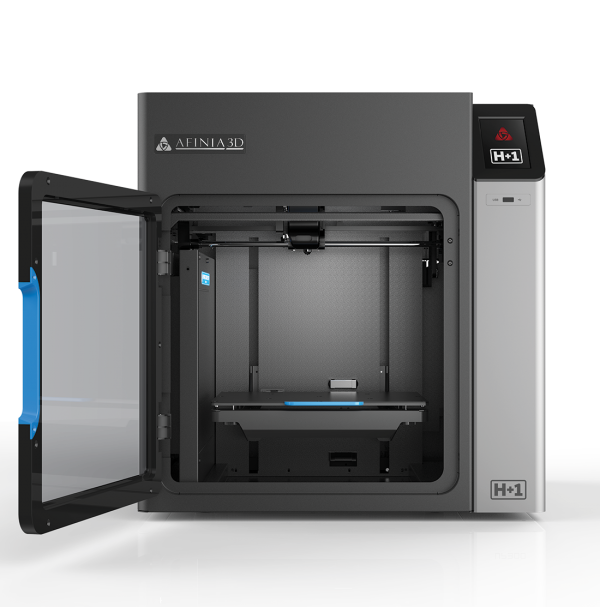 ---
The Afinia H+1 3D printer combines a large build volume with consistency of performance. Material-specific printheads are included, ensuring optimal print quality and compatibility across a wide range of filament types. The H+1 builds on the rich feature set of other Afinia 3D Printers to offer more control and precision than ever before

OVER 35 YEARS OF SERVICE
Providing insight, selection, installation, and ongoing support of the latest educational and career technology.
Request a Quote
Learn More About Afinia 3D
For more information or to contact Buckeye Educational Systems, your Authorized Afinia 3D Reseller, call 800.522.0460 or email info@buckeye-edu.com