zSpace Learning Lab
Content Overview
Life Science
Physical Science
Engineering Design
Earth & Space Science
Mathematics
History & Geography
Arts
The zSpace Learning Lab includes a suite of learning applications, hundreds of activities ready for integration into your curriculum, and zSpace all-in-one computers that deliver lifelike experiences that…
Inspire Curiosity. Engage Students.
Creating engagement through exploration and experiential learning in a student-centered environment defines the zSpace learning experience. Concepts and places typically left to the imagination become tangible.
Build Student Confidence.
zSpace develops fearless learners through an environment where safety is guaranteed, supplies are unlimited and experimentation is encouraged. Through life-like experiences, zSpace levels the playing field of student experience. As confidence grows and engagement is built, student interest in STEM careers expands.
Deepen Student Understanding.
zSpace encourages students to inquire, take risks, and solve problems while building background knowledge to be successful. From creating original experiments to designing new objects, zSpace elevates opportunities for students to apply their learning. Student collaboration creates numerous opportunities for rich academic conversations.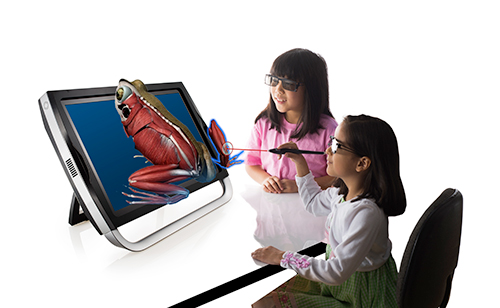 Learning Applications
zSpace Studio (K-12)
Leopoly (K-12)
Geogebra (HS)

OVER 35 YEARS OF SERVICE
Providing insight, selection, installation, and ongoing support of the latest educational and career technology.
Request a Quote
Learn More About zSpace
For more information or to contact Buckeye Educational Systems, your Authorized zSpace Reseller, call 800.522.0460 or email info@buckeye-edu.com