Wearable Venipuncture Trainer
Our SynAtomy Wearable Venipuncture Pad is a lifelike medical training platform ideal for students and professionals who seek to learn new techniques and improve hand-eye coordination associated with phlebotomy, intramuscular injection, intravenous injection and suturing. Repeated use will strengthen confidence and enhance the ability of users who clinically perform or assist in these procedures.
This wearable trainer uses tissue from our SynDaver SynAtomy product line with mechanical features that allow it to be worn by a mannequin or live actor. The structural elements in this item incorporates ballistics-quality armor to prevent injury.
Standard construction includes two blood vessels with an inner diameter of 4mm embedded in a layer of adult skin, fat and muscle 6mm thick. Various sizes and thicknesses are customizable upon order. Pathologies such as hematomas, lesions, tumors, fibrous cyst, or abscess may be added to these pads. All layers including blood vessels may be punctured multiple times and are replaceable.
Relevant Skills
Phlebotomy, intramuscular injection, intravenous injections, the application and removal of sutures and staples, catheterization, cannulation and the application of adhesives and antiseptics.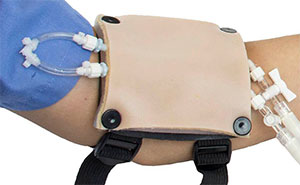 Included Components
Adult skin, subcutaneous fat, muscle and three blood vessels.

OVER 35 YEARS OF SERVICE
Providing insight, selection, installation, and ongoing support of the latest educational and career technology.
Request a Quote
Learn More About SynDaver Labs
For more information or to contact Buckeye Educational Systems, your Authorized SynDaver Labs Reseller, call 800.522.0460 or email info@buckeye-edu.com