VersaCAMM VSi Series 300i
Large-Format Inkjet Printer/Cutters
The VersaCAMM VSi Series 300i large-format inkjet printer/cutter offers everything you need to produce just about any job imaginable. Exceptional print quality featuring the latest print head technology and high-performance Eco-Sol MAX 2 inks. Featuring various ink options, integrated contour-cutting for a streamlined production process, and a host of user-friendly design features to boost efficiency, this device is chosen by professionals to build their business on.
Features
The Advantage of Integrated Print/Cut
VersaCAMM VSi Series inkjets streamline the production process by automatically contour cutting printed graphics as soon as they finish printing. By eliminating the need to reload and reposition graphics, VSi integrated cutters save valuable time and effort, creating a tremendous competitive advantage.
Advanced Eight-Channel Print Head Technology
The VSi Series features an advanced eight-channel Piezo inkjet print head containing 180 nozzles per channel in a gold-plated housing, specially engineered to ensure reliable, outstanding quality. With Roland Intelligent Pass Control technology and seven different droplet sizes available, the VSi Series achieves remarkably smooth gradations and richer density for photographic and high-resolution vector output at resolutions of up to 1440×720 and print speeds of up to 289 sqft/hr.
Automated Ink Circulation System
Designed to reduce waste of white and metallic silver ink, the circulation system dramatically lowers running costs while ensuring exceptional image quality throughout the longest production runs.
Integrated Two-Stage Heating System and Optional Benes Dryer
Every VSi model features a built-in, two-stage integrated heater system designed to dry prints quickly, even in high speed modes, for immediate finishing, installation or collection by the take-up system. This advanced system delivers the proper amount of heat for each application and stores individual settings right in the printer.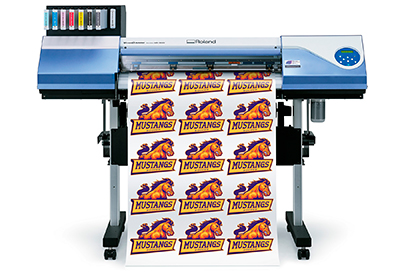 Specifications
Printing technology
Media
Width: 8.25 in – 30 in (210 mm – 762 mm)
Thickness:
Maximum 39 mil (1.0 mm) with liner for printing
Maximum 16 mil (0.4 mm) with liner and 9 mil (0.22 mm) without liner for cutting
Roll outer diameter:
Roll weight:

OVER 35 YEARS OF SERVICE
Providing insight, selection, installation, and ongoing support of the latest educational and career technology.
Request a Quote
Learn More About Roland
For more information or to contact Buckeye Educational Systems, your Authorized Roland Reseller, call 800.522.0460 or email info@buckeye-edu.com