Ultimaker S3
Easy-to-use 3D printing starts here
The new Ultimaker S3 delivers high-quality, composite-ready performance – all efficiently from your desktop. Packed with Ultimaker's latest technology, it is as easy to use as it is powerful, offering the most cost-effective way for organizations to adopt in-house 3D printing.
Features Summary
The Ultimaker S3 is a complete production system you can depend on. With advanced features to ensure a reliable printing experience, it's still simple to use thanks to its award-winning touch interface and seamless software integration.
Dual extrusion with a build volume of 9 x 7.4 x 7.9 inches (230 x 190 x 200 mm)
Down to 20 micron (0.001 inch) layer resolution
Open filament system, compatible with glass and carbon fiber composites
Dual filament flow sensors that notify users if material runs out
4.7-inch touchscreen interface – Winner of iF Design Award 2019
Reliable
The Ultimaker S3 features next-generation reliability. Its advanced active leveling, stiffer build platform, heated build plate, and more accurate stepper drivers result in the highest print quality of a machine in this form factor. Plus, dual filament flow sensors notify you if you run out of material.
Easy to Use
The Ultimaker S3 was designed so that anyone can achieve high-quality results after a 30-minute introduction. Its award-winning touch interface, quick-swap print cores, and predefined print settings enable rapid changeovers and reduce operator time needed.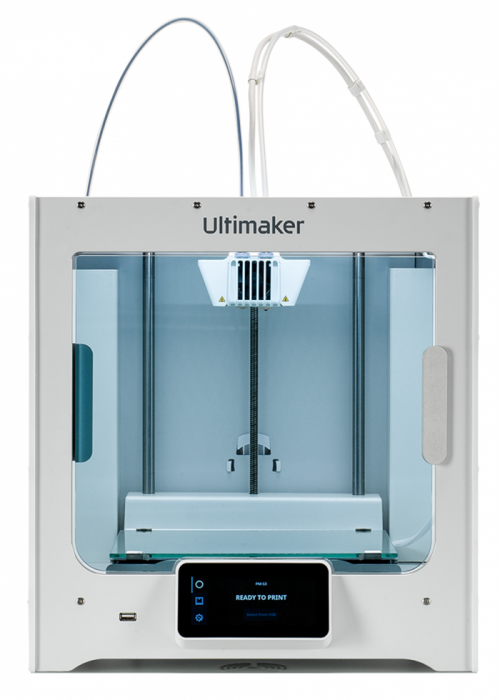 Material Choice
Thanks to Ultimaker's pioneering alliance with global materials companies, the S3 lets you print with a growing library of advanced materials – including glass and carbon fiber composites (when using print core CC Red 0.6 – sold separately).
From mechanical strength to flame retardancy, simply pick the material for your application, download a print profile in the Ultimaker Marketplace, and start printing. Optimized performance – no manually entering parameters.

OVER 35 YEARS OF SERVICE
Providing insight, selection, installation, and ongoing support of the latest educational and career technology.
Request a Quote
Learn More About Ultimaker
For more information or to contact Buckeye Educational Systems, your Authorized Ultimaker Reseller, call 800.522.0460 or email info@buckeye-edu.com