TransMaster™
The ATS TransMaster™ Simulator provides true-to-life driving environments in a high-fidelity simulator platform that is customizable to commercial transportation vehicles, motor coaches, heavy equipment, and military applications.
Patented technology. Progressive training. Revolutionary results.
The TransMaster™ from ATS has become the standard by which simulation platforms are judged, earning the title of the most advanced training simulator. Developed over a four-year period by ATS, the TransMaster™ incorporates various aspects of any heavy truck model. Optioned to incorporate both passive-resistance and force-feedback steering along with exclusive classroom-based content to effectively and confidently train tomorrow's CDL Drivers.
Equipped with state-of-the-art technology, TransMaster™ provides effective, cost-efficient training. From its plug-and-play operation with Q-motion technology to the ATS patented learning process, TransMaster™ combines precision-machined aluminum, composite materials, and exclusive training software to provide a simulator platform that focuses on student retention of shifting patterns, vehicle handling, and backing maneuvers.
TransMaster™ by Advanced Training Systems  – your immediate solution to optimized driver training!
Digital Coach
Often referred to as the 'Digital Coach,' the ATS patented self-paced approach is optimized for each individual user based on their behaviors and actions. By incorporating this patented training process, the TransMaster™ simulator allows for the student to train more efficiently, without the use of an instructor for remedial basic practice and shifting, ultimately resulting in a much more confident trainee and more efficient use of student-instructor time on-the-road.
Patented Learning System
The defining feature of any TransMaster™ Simulator is in its patented learning system. Unlike other simulator systems, TransMaster™ simulators provide self-paced, expert guided training, effectively allowing training institutions to focus on individual student and driver behaviors and to correct, modify, and improve skills.
Quality Driver Interfaces
Precision-machined aluminum, high-fidelity displays, and military-grade electronics are all integral parts of the TransMaster™ and are manufactured to guarantee customer satisfaction and equipment longevity. The ATS TransMaster™ driver interface system and its associated parts feature touch-screen displays, identical tactile feedback, and actual tractor/truck parts. Plus, the TransMaster™ simulator is the ONLY simulator to feature the ATS patented, true-to-life transmission module.
Sight System
Selected from only the best brands, each monitor integrated into the TransMaster™ is selected from scrutinized specifications to allow for premium brightness, contrast ratios, and the fastest of reaction times. Furthermore, all TransMaster™ systems ranging from the Basic, Plus, to Elite, are incredibly versatile, allowing display selection to range from a single 32-inch monitor to triple projector display systems, and everything in between!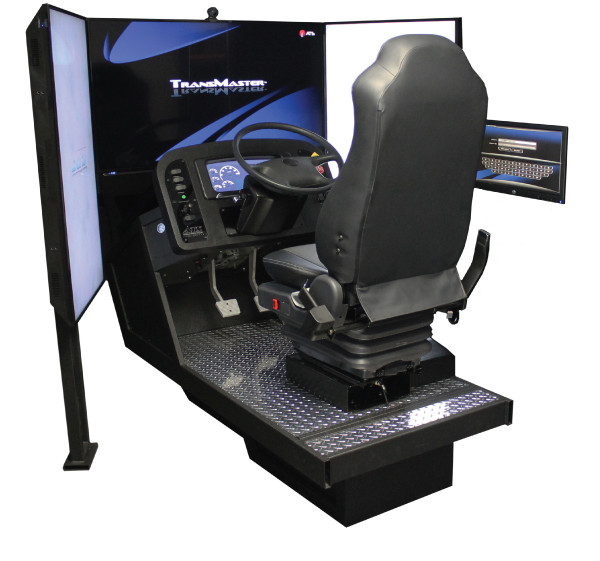 TransMaster™ – Basic includes:
Single-screen shifting simulator with integrated Digital Coach
Autonomous progressive shifting program
Scenario and vehicle library
2-year warranty
OnCue motion system
Upgrade-ready to TransMaster™ Plus, Elite, or to FleetMaster™
Request Course and Equipment Summary
Request a Demo

OVER 35 YEARS OF SERVICE
Providing insight, selection, installation, and ongoing support of the latest educational and career technology.
Request a Quote
Learn More About ATS Advanced Training Systems
For more information or to contact Buckeye Educational Systems, your Authorized ATS Advanced Training Systems Reseller, call 800.522.0460 or email info@buckeye-edu.com