SynDaver Surgical Model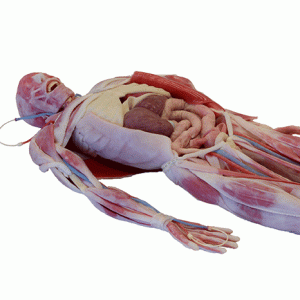 The SynDaver Surgical Model is the most elaborate and sophisticated full-body surgical simulator ever devised, featuring complete and functional musculoskeletal, cardiovascular, respiratory, and gastrointestinal systems. Similar to an exquisite 3D jigsaw puzzle, most muscles, bones, vascular components, and organs are removable and replaceable. Made from water, salts, and fibers, the individual organ tissues have been designed over the last two decades to mimic the essential mechanical and physical properties of live tissue. Quite simply, the SynDaver Surgical Model is the apex of hands-on surgical simulation.
With modifications, the SynDaver Surgical Model can be used in a wide variety of procedures, including laparoscopic surgery, coronary stent placement with fluoroscopy, chest tube placement, cricothyroidotomy, central line placement, bowel resection, ECMO, tracheotomy infusion port placement, appendectomy, carotid endarterectomy, embolectomy, angioplasty, femoral cutdown with closure, and many more!
Available in male or female models.
Features
The SynDaver Surgical Model employs a heart that pumps heated synthetic blood (pulsed flow away from the heart and drainage toward the heart) and can be used to perform airway procedures, including intubation and ventilation. The model is compatible with all known imaging systems and all known medical devices, even those that employ directed energy, such as lasers and RF.
Anatomical Attributes
| | |
| --- | --- |
| Skin with fat and fascia planes (optional) | Every bone, muscle, and tendon |
| Functioning respiratory system | Complete digestive and urinary tracts |
| Visceral and reproductive organs | Circulatory system with arterial vasculature |
Arterial Vasculature
| | | |
| --- | --- | --- |
| Abdominal aorta | Anterior tibial artery | Aortic arch |
| Ascending aorta | Brachial artery | Common carotid arteries |
| Common femoral artery | Coronary arteries | Descending aorta |
| Fibular (peroneal) artery | Iliac artery | Popliteal artery |
| Radial artery | Subclavian arteries | Thoracic aorta |
| Ulnar artery | Vertebral arteries | |
Venous Vasculature
| | | |
| --- | --- | --- |
| Anterior tibial vein | Axillary vein | Basilic vein |
| Brachial vein | Cephalic vein | External jugular vein |
| Great saphenous vein | Iliac veins | Inferior vena cava |
| Internal jugular vein | Median cubital vein | Popliteal vein |
| Posterior tibial vein | Radial vein | Subclavian vein |
| Superior vena cava | Ulnar vein | |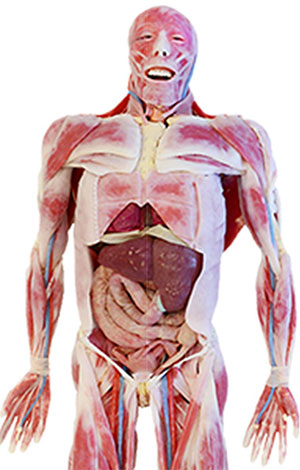 Muscles, bones, organs, and vasculature can be removed and replaced during on-site servicing and upgrades.
Customization
A variety of customized pathologies and injuries are available based on patient images, CAD drawings, or simple descriptions, and sex, and skin tone are able to be chosen by the client.
Imaging Equipment
System is compatible with all known imaging techniques including MRI, CT, fluoroscopy, and ultrasound.
Surgical Equipment
System is compatible with all known surgical devices including lasers, RF ablation, plasma knives, sonic blades and cryocatheters, as well as bipolar, monopolar, and harmonic devices.
System Components
Full body with storage and display container, stainless-steel table, deluxe battery-powered heart pump, and all required plumbing. The model may be skinless or covered with the standard SynDaver synthetic human skin (pure wet chemistry).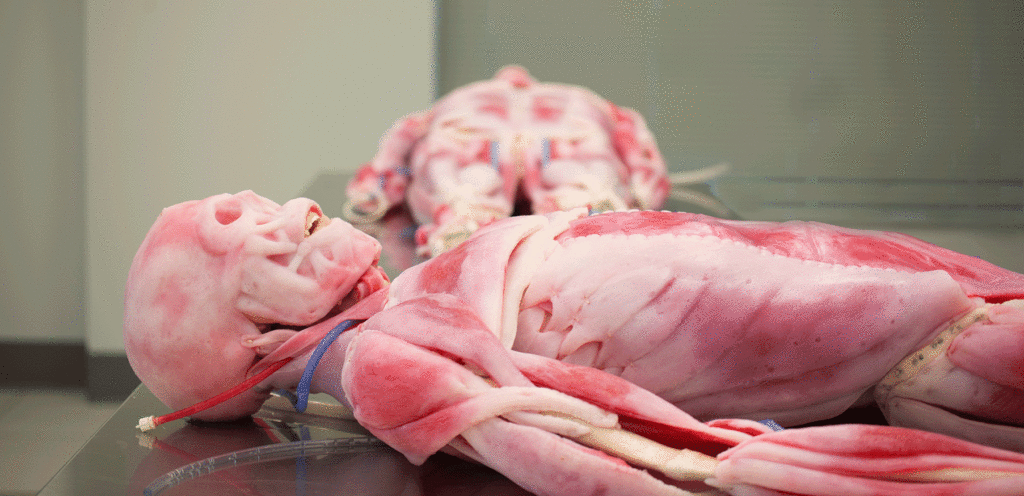 OVER 35 YEARS OF SERVICE
Providing insight, selection, installation, and ongoing support of the latest educational and career technology.
Request a Quote
Learn More About SynDaver Labs
For more information or to contact Buckeye Educational Systems, your Authorized SynDaver Labs Reseller, call 800.522.0460 or email info@buckeye-edu.com