SynDaver Anatomy Model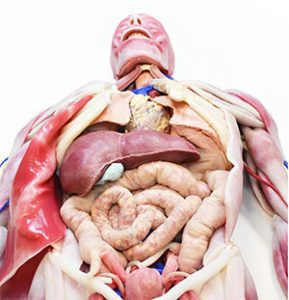 The SynDaver Anatomy Model is an education-grade synthetic human cadaver complete with all bones, joints, muscles, organs and tendons in normal human anatomy. Major nervous system and vascular components are also included. The SynDavers are the most realistic synthetic representation of human anatomy ever produced.
The SynDaver Anatomy Model is an ideal alternative to human cadavers in basic anatomy classes. The tissues are a better representation of live tissue than the dead tissue of a cadaver and unlike an actual cadaver, the SynDaver can last virtually forever with proper maintenance.
SynDaver synthetic human tissues have been developed over the last two decades to mimic the physical proper- ties of live tissue. Thanks to this technology, students can become familiar with the look and feel of a live human body without specialized facilities, risk of exposure to biohazards or compromising a live patient.
Imaging Compatibility
X-Ray
CAT Scan
Magnetic Resonance Imaging
Ultrasound Imaging
Construction Materials
The skeletal system is made from polymer composite with integral fascia sheath. SynTissue brand synthetic tissues are used in all muscular and organ systems.
Skeletal and Muscular System
600+ Muscles
200+ Composite Bones
Skeletal Fascia
Ligaments
Nervous System
Brain
Spinal Cord
Peripheral Nerves
Epidural Space
Cardiovascular System
Chambered Heart
Venous Vasculature
Coronary Arteries
Arterial Vasculature
Respiratory System
Lungs
Trachea
Vocal Cords
Complex Oral Cavity
Gastrointestinal System
Esophagus
Large and Small Intestines
Stomach
Rectum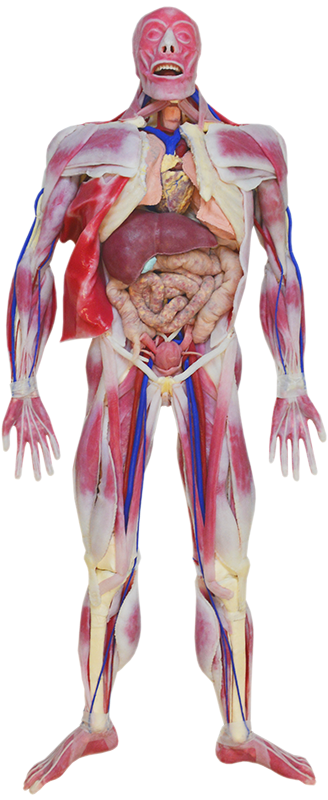 Urinary System
Kidneys
Ureters
Bladder
Urethra
Reproductive System
Prostate (M)
Penis (M)
Testes (M)
Uterus (F)
Vagina (F)
Other Abdominal Organs
Mesentery
Liver
Gall Bladder
Appendix
Omentum
Pancreas
Spleen
Biliary System

OVER 35 YEARS OF SERVICE
Providing insight, selection, installation, and ongoing support of the latest educational and career technology.
Request a Quote
Learn More About SynDaver Labs
For more information or to contact Buckeye Educational Systems, your Authorized SynDaver Labs Reseller, call 800.522.0460 or email info@buckeye-edu.com