Shark HD520
HD Series
SHARK by Next Wave CNC is the latest advancement for education. Once predominantly used for cutting out parts, creative VCarve software makes high quality CNC design and carving a reality for anyone. Whether you're working with wood, soft metals, or plastics, Next Wave CNC continues as the industry leader with our value packed SHARK line.
Features
Table dimensions: 28″ x 63″
XYZ travel: 25″ x 50″ x 7″
Overall dimensions: 36-1/4″W  x  63″L  x  24-1/2″H
Anti-backlash, wear-compensated leadscrews on all axes
Interlocking table designed for accuracy and universal clamping
Color Touch Screen Pendant
Router on/off control
Vectric VCarve Pro Software
Reinforced to handle larger routers
All Next Wave HD Series CNCs Include:
Latest VCarve Software
One Year Warranty
Lifetime Tech Support
Patented Virtual Zero Technology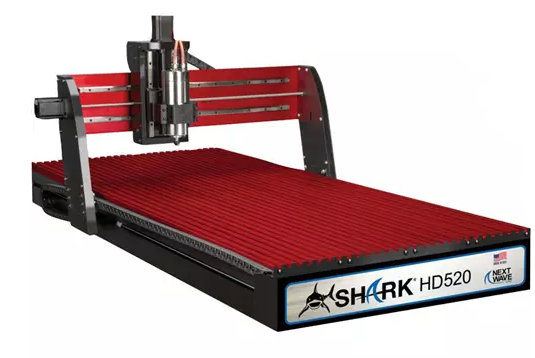 OVER 35 YEARS OF SERVICE
Providing insight, selection, installation, and ongoing support of the latest educational and career technology.
Request a Quote
Learn More About NEXT WAVE CNC
For more information or to contact Buckeye Educational Systems, your Authorized NEXT WAVE CNC Reseller, call 800.522.0460 or email info@buckeye-edu.com