Mitral Valve
Our SynAtomy mitral valve is designed for use in heart valve replacement training exercises. The valve design is based on actual CT images to assure anatomical accuracy. Product is supplied as a single unit that may be reused many times. This model employs simplified versions of our patented SynTissue brand synthetic human tissues. Designed with extensive input from our medical device, hospital, and military clients, these materials exhibit realistic puncture resistance, suture holding, and electrocautery, laser scalpel, and plasma knife performance.
SynTissue synthetic human tissues are made from salt, water, and fiber, and feature the world's most realistic tactility.
Relevant Skills
Manual and robotic-assisted anastomosis and heart valve replacement.
Equipment Compatibility
Laser scalpels, electrocautery and RF ablation devices, harmonic blades, monopolar and bipolar devices, plasma knives, ultrasound equipment and all know imaging equipment.
Included Components & Dimensions
One mitral valve
22mm x 15mm (OD x L)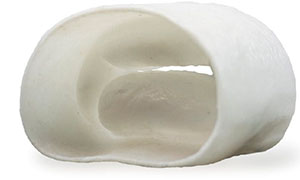 Additional Information
Weight: .3 lbs.
Dimensions: 2 x 2 x 3

OVER 35 YEARS OF SERVICE
Providing insight, selection, installation, and ongoing support of the latest educational and career technology.
Request a Quote
Learn More About SynDaver Labs
For more information or to contact Buckeye Educational Systems, your Authorized SynDaver Labs Reseller, call 800.522.0460 or email info@buckeye-edu.com